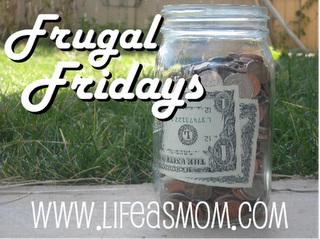 Frugal Friday is a great "meeting of the minds" to share frugal tips and tricks. As you know, we can all benefit from great ideas that have helped others save money.
In the past, Frugal Friday has also included a weekly linky party. This year, Frugal Friday is transitioning to more of a discussion format. Please, chime in and share your thoughts in the comments section.
While Frugal Friday will no longer host a linky party, feel free to share a link to your own money-saving tip in the comments section too!
Join in the Frugal Friday Discussions this year!
Search the Frugal Friday archives!
Attitude
Budgeting
Cars
Entertainment
Food 
Gifts
Goals
Holidays & Celebrations
Home & Stuff Management
Making Choices & Prioritizing
Saving
Shopping

Travel
Work