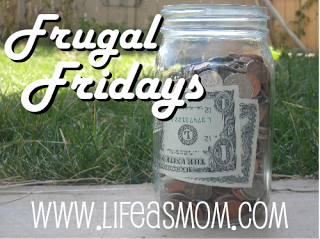 Unbelievable, but it's been two months since I started recounting Our Get-Out-Of-Debt Story. If you missed it, start at the beginning. Special thanks go to The Happy Housewife and Freebies4Mom for guest posting these last two weeks. It was wonderful to have them share their money-saving wisdom. Now, where was I?
Ok, you're in debt? Or maybe you just don't feel like you're on top of things financially. Here's my quick recap of what has helped us feel better about our money situation:
1. Stop using credit.
2. Listen to Dave Ramsey.
3. Take a financial snapshot and make some goals.
4. Start budgeting.
5. Reduce expenses.
6. Increase income.
These first six steps worked together to help us get our spending under control. If you do these things, I'd be surprised if you didn't feel like you were more the boss of your money than the other way around.
Once we got to this point, the next step for us in this journey was to have an Emergency Fund. Dave Ramsey calls this the First of his Baby Steps. He recommends having $1000 liquid, that is easily available. Don't have it too available. But it shouldn't be in investments that are hard to get at.
And it's. just. for. emergencies.
The theory behind this small emergency fund is that it is enough to keep you from acquiring more debt. It's a life preserver, if you will. It's not a steamship to take you off to complete safety, but it's enough to keep your head above water in case your car breaks down, you get a cut in hours, you have an unexpected medical bill. Having this flotation device helps cushion these blows without sinking deeper into debt.
If there isn't excess in your monthly income to provide for this emergency fund, then you have to reduce expenses and increase income some more. There is no other solution. But, every little bit helps.
Even if it's something as small and simple as starting a money jar, do it. Grab an empty pickle jar and start putting loose change in it. Have a garage sale? Put the money in the jar. Get a gift of money? Put it in the jar. Sure, you could go get take-out tonight, but you'll feel better in the long run eating rice and beans tonight and putting that money in the jar. As it fills, you'll have tangible evidence of that financial life preserver.
There's a reason why they call it "saving for a rainy day." It never hit me until I married a carpenter. When there's only "outside work" to do and it rains, guess what happens? You stay home. And when you stay home in construction, you don't get paid. Hmm….
OK, then. Save for that rainy day. Put aside $1000 that you won't spend unless you have to. You won't be sorry.
Part Eight: Get that debt snowball rolling.
What do YOU do to save money? We'd love to hear it.
In the interest of exchanging good ideas, please do not post affiliate links, giveaways or deal posts. Instead tell us what you do to stretch your dollars a little farther. Share concepts and ideas that have helped you grow in saving money and being a better steward of your resources.
Write about your money saving tip on your blog and bring the permalink to that post here. If you find your link has been deleted from Mr. Linky, it is probably because you linked to your blog's home page instead of the post itself. If you need help, go here.
As a courtesy to me, your lovely hostess, please make sure that you link to www.LifeasMOM.com in your post.
If you don't have a blog, tell us your bright idea in the comments. Can't wait to learn some new tricks!