Frugal Friday: Budget Friendly Stocking Stuffers
As an Amazon Associate I earn from qualifying purchases. For more details, please see our disclosure policy.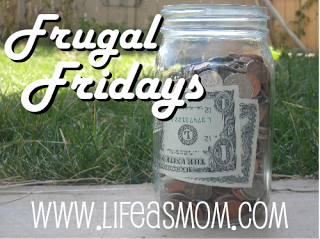 Forgive me while I take the next few installments of Frugal Friday to talk about Frugal Christmas. I realize that not all my readers celebrate Christmas, so please indulge me just a wee bit. I think many of my suggestions for saving money at the holidays will transfer to any gift giving and celebrating that you might do according to your family's traditions. For the FishFam, Christmas is a great time of celebrating and it is also a big time of potential spending. I gotta watch myself, especially when it comes to Christmas Stockings.
Our family has always been big on fun stockings. Years ago my Granny handknit me a stocking, and a tradition was born. Every sibling, cousin and grandchild on my mom's side of the family has a stocking in the same style as mine. My mom, God bless her, has taken up the knitting needles to pass on these family heirlooms.
Years ago, like when I still lived with my parents, I offered to handle the stocking stuffers. At 18, I was sure I knew better than my mom what we would like to find on Christmas morning. Unfortunately, I promptly forgot! It wasn't until about 9 pm on Christmas Eve that my mom asked me about them. Dumbfounded, I grabbed my keys and headed for the only grocery store that was still open. My sister and a friend and I rummaged through the store, looking for fun treats. The pressure was on, especially since my baby brother was only 4 at the time. We did not want him to be disappointed. In the end, I spent a small fortune due to poor planning.
Even with the best of planning, stockings stuffers can add up. Here are some suggestions to help you offset the costs that can accrue quickly.
Get free samples. I originally got this tip from Freebies4Mom last year. Since then, I've stashed away any free samples that I've heard about online or received from VocalPoint in the mail. I have a bag in the pantry where I hide items like small boxes of cereal and granola bars.
Bundle some candy. It seems that Walgreens and CVS often have great deals on candy near the major holidays. Don't buy individual packages if a bulk bag is cheaper. Simply bundle a handful of sweets in a piece of fabric or tissue paper and tie with a ribbon. Even M&M's and Skittles work this way.
Make playdough. I'm planning on mixing up several batches of homemade dough for my littles this year. Just package a handful of playdough from this recipe in sandwich size bags.
Visit the dollar store. Use caution because purchases can still add up quickly, but you can find great little trinkets at these discount stores. Just don't take too much money with you and you should be fine.
Make muffin tin crayons. I stocked up on 25 cent crayolas at back to school time. Each of my bigger kids will receive a new box. But, I'm going to take all the broken chunks and melt them down into bigger crayon "muffins" for my little ones. Simply sort crayons by color themes into aluminum muffin liners. Heat in a warm oven until melted. Cool completely before removing the foil.
Create photo books. Good deals abound on photo books. (Don't forget to get cash back by ordering them through an Ebates or ShopAtHome merchant.) Kids of all ages would love a photo book of their own, be they toddlers, tweens, or teens. Just upload photos you know would interest them.
Pick out a gift card. Even $5 to a favorite shop or restaurant is a pleasant surprise. Pick one out at ShopAtHome and get cash back from the purchase as well.
Pass on a family heirloom. My mom did this for years, wanting to ensure that we received the things that were important to her. She always included a small note, explaining the history of the item.
Write a love note. Share with your peeps how much you love them. It's free, but it's priceless.
What's a budget-friendly item that you like to stuff in stockings? I'd love to hear it!
In the interest of exchanging good ideas, please do not post affiliate links, giveaways or deal posts. Instead tell us what you do to stretch your dollars a little farther. Share concepts and ideas that have helped you grow in saving money and being a better steward of your resources.
Write about your money saving tip on your blog and bring the permalink to that post here. If you find your link has been deleted from Mr. Linky, it is probably because you linked to your blog's home page instead of the post itself. If you need help, go here.
As a courtesy to me, your lovely hostess, please make sure that you link to www.LifeasMOM.com in your post.
If you don't have a blog, tell us your bright idea in the comments. Can't wait to learn some new tricks!
Don't forget! Next week, December 10th will be a special themed week for Frugal Friday. Bring your suggestions and creativity to the topic: $10 Gifts. I'd love to see how creative we can be with our deals and steals!