Frugal Friday: Choose Wisely
We are a participant in the Amazon Services LLC Associates Program, an affiliate advertising program designed to provide a means for us to earn fees by linking to Amazon.com and affiliated sites. We participate in other affiliate programs as well. For more details, please see our disclosure policy.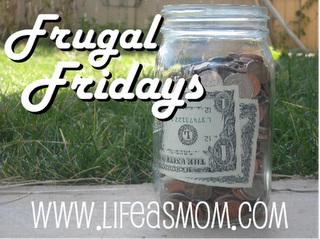 I had an interesting conversation with a friend. Someone had asked her why she paying for gymnastics and swim lessons for her children when she was trying to save money. It wasn't a question of paying for perceived luxuries when there was debt to pay off. Her friend just didn't understand her paying for expensive things when she was trying to be frugal. I think it was honest confusion that happens to us all.
And it's an interesting question:
How can you scrimp and save and then pay so much for X,Y, or Z?
We each make decisions how to spend our money. Some better, some worse. But, really, what's the goal of all the coupon clipping and penny pinching, anyway?
Sometimes it's to get out of debt.
Sometimes it's to be a good steward of resources.
Sometimes it's to free up funds to pay for something higher on the priority list.

Making Choices
My husband and I love Peets Coffee. It's a little more expensive than grocery store coffee, about $14 a pound. Not really what many people would consider "frugal." But, we really enjoy a cup of Peets in the morning. So much so that when we lived in Kansas, we had it shipped to us every month or so, direct from the plant, because we couldn't buy it locally.
When we decided to fight our debt, we gave up Peets. It was a luxury that moved lower on the priority list. And we tried other brands on sale, with coupons. And we drank some really wretched coffee as I gave bargain brand after bargain brand a try. And we lived, and it was fine.
While I still clip coupons and still make efforts to be frugal, I have added Peets to our list of regular purchases. We're not rolling in dough, but now that the Debt Monkey is off our backs, we're free to have a little more discretionary spending. And Peets is one of the things we choose.
For someone else, it might be extra activities for your kids. It might be a nicer car. It might be a salon hair cut.
It's your money. You get to choose. Just choose wisely.
Related: MoneySavingMom has another interesting twist on the definition of frugality.
What do YOU do to save money?
Share your favorite money-saving ideas today. Leave a link to a post that shares some frugal wisdom. (Please no giveaways or deals posts. Teach us how to fish!)