Frugal Tip: My Dad Was Right
We are a participant in the Amazon Services LLC Associates Program, an affiliate advertising program designed to provide a means for us to earn fees by linking to Amazon.com and affiliated sites. We participate in other affiliate programs as well. For more details, please see our disclosure policy.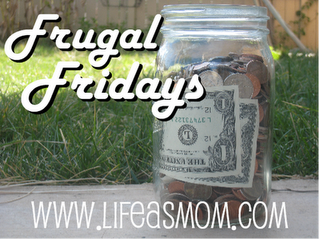 This is another one of those weeks when I have to give my dad a little more credit for a great money saving idea. My dad was uber-frugal when I was growing up. Back then I thought he was just cheap. But now that I have six children of my own, I'm seeing the wisdom of his ways.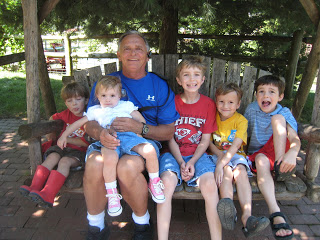 Grampa Jack and 5 FishKids, Summer 2008
So, in honor of my dad and the fact that both his birthday and Father's Day are this weekend, I thought I would present
5 Money Saving Tips I Learned from My Father:
1. Avoid ordering sodas when eating out. Water with lemon is just as refreshing and it's free.
2. Make lunch at home. To this day, Dad is a little resistant to eating out. Instead, he buys a bunch of deli meats, cheeses, and sliced breads. Oh! And he throws in several bags of chips, too. We eat like kings for a fraction of the price take-out or fast food would cost.
3. Cut the kids' hair yourself. Dad gave us our first set of clippers. After much trial and error (starting when my boys were small), I've taught myself how to give them a decent haircut. At $10/kid every 2 months I figure this saves us $240 per year – if I were going to Supercuts. I also cut FishPapa's hair, so that brings the total to $330/year in haircuts.
4. Buy mistint paints. My dad has many years experience in house painting. He has always encouraged us to check out the reject paints when selecting a new color. There's nothing wrong with these paints, they were just mixed wrong, not to the client's specifications. You can buy these for as low as $2/gallon at Sherwin-Williams. High quality paint for a super price.
5. Buy a used car. Knowing that a car loses such a big percentage of its value the minute you buy it, we've made the decision to buy used. We've never been disappointed. And it relieves me from the pressure and shame of putting the first ding in it from car doors, etc.
Got a great money saving tip? Share it with us! In the interest of exchanging good ideas, please do not post affiliate links, giveaways or deal posts.
Instead tell us what you do to stretch your dollars a little farther. Share concepts and ideas that have helped you grow in saving money.
Write about your money saving tip on your blog and bring the permalink to that post here. If you don't have a blog, tell us your bright idea in the comments. Can't wait to learn some more tricks!