DIY Backyard Toys
We are a participant in the Amazon Services LLC Associates Program, an affiliate advertising program designed to provide a means for us to earn fees by linking to Amazon.com and affiliated sites. We participate in other affiliate programs as well. For more details, please see our disclosure policy.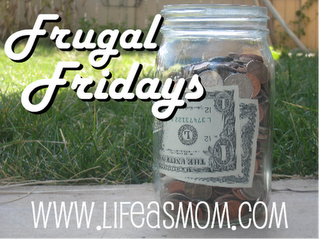 I've been the mom of toddlers for about ten years or so. In my earlier years I wanted my child to have the very best of everything. What mom doesn't? But, back then, I thought "best of everything" meant brand new and expensive.
I didn't know that, richer or poorer, kids really don't need much to keep themselves happy and occupied. In fact, over the years, we've discovered that the fewer bells and whistles, the happier the child — and the parents.
That said, one of the things that I've always wanted for my little ones was a sand and water table. I have great memories of my own backyard sandbox and the hose that inevitably joined us.
For years I would walk past the display in Walmart or Target and I would pine for one. But, 50 or 60 bucks just didn't seem right. And, since I'm not too experienced on the garage sale/thrift store circuit, I'd never found one along that avenue either.
Make Your Own Sand and Water Table
Instead, this past week, I decided to make one myself. We already had a small kid-sized table and a bunch of bath toys. I bought two "under the bed" boxes for $5.50 each at Walmart and threw in a newer set of sand/water toys for another $5. My mom had picked up 4 bags of playsand for $1/bag on clearance last fall and donated those to our cause.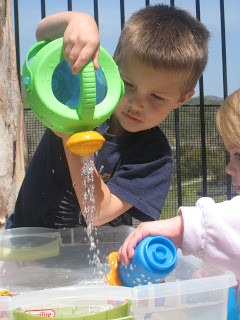 One box gets filled with fresh water, the other holds the sand. The littles have had a blast playing with their new backyard toys. Cleanup is a snap as we put the lid on the sandbox and empty the water from the other box and use it to hold all the toys.
Sand and Water Tables: $11, $9 for the additional toys and sand
The fun they've had: Priceless
Got a great money saving tip? Share it with us!
Write about it on your blog and bring your link back here. Anyone is welcome to participate provided that both the blog and the post are family-friendly.
Please remember
1. to add a link to LifeasMOM, so that your readers know where to find all the other good stuff that people are sharing. (It's always good to share, isn't it?)
2. to make sure that the link you share here directs us to your post, not the main page of your blog. You can find directions to do that here.
Looking forward to your great ideas!