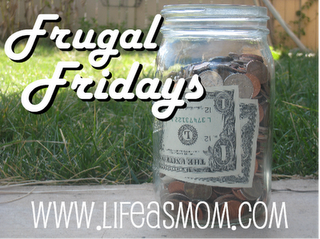 I mentioned yesterday how special my mom made special occasions. We were always on a budget, but things always looked nice and tasted great. I don't really know how she pulled it off. I never heard her complain that she couldn't set a pretty table or a fancy spread due to lack of money.
Mom? Are you there? Maybe you could comment? What's your secret?
Well, until my mom learns about the comment function, I thought I'd present some ideas about how to "Do a Holiday Dinner on a Dime".
1. Host a potluck. This is a great way to gather a group without ending up in the poor house. Provide the main dish and ask others to bring their favorite sides and desserts. You may end up with seven chocolate cakes, but hey, that's a special occasion if I ever heard of one.
2. Plan ahead. If you know you will be feeding more than your own family over the holiday, plan accordingly. Plan some really cheap meals (read: rice and beans) for a few nights in order to leave more padding in your grocery budget.
Likewise, if you see great deals that would work for your fancy dinner, stock up on those at a great price, rather than paying "full pop" when you want or need it.
3. Shop the sales. Maybe you don't have a lot of advance notice. That's okay. Just pick up this week's sale flyer and let that determine your menu. If ham is the cheapest thing going, then make ham and scalloped potatoes the stars of your menu. But, feel free to be unconventional if that's the way the sales ads roll. For example, spare ribs are on sale at several of my stores, so I might cook up a few slabs and have friends bring BBQ-type sides. It may not be "fancy" in the true sense of the word, but it'd sure be good.
4. Think outside the box. There's no law that says Easter Dinner has to be ham, lamb, or turkey. If a big pasta feed is in your budget, so be it. If a big hamburger cookout works for you, then go for it. The purpose of the celebration is to rejoice in what God has done while enjoying time with family and friends.
It's not about the food. (And, yes, I said that.)
Got a great money saving tip? Share it with us!
Write about it on your blog and bring your link back here. Anyone is welcome to participate provided that both the blog and the post are family-friendly.
Please remember
1. to add a link to LifeasMOM, so that your readers know where to find all the other good stuff that people are sharing. (It's always good to share, isn't it?)
2. to make sure that the link you share here directs us to your post, not the main page of your blog. You can find directions to do that here.
Looking forward to your great ideas!