Frugal Friday: Get a Cardboard Box
We are a participant in the Amazon Services LLC Associates Program, an affiliate advertising program designed to provide a means for us to earn fees by linking to Amazon.com and affiliated sites. We participate in other affiliate programs as well. For more details, please see our disclosure policy.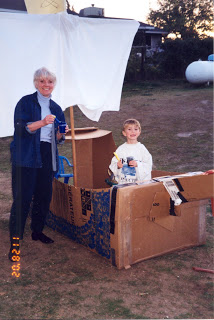 I've said it before and I'll say it again: we don't have to spend a lot of money to entertain children. I remember a mentor mom once telling me about "creative boredom." If the kids don't have a lot of bells and whistles, they'll find things to do. How true it is!
One frugal activity that my children love is to transform cardboard boxes into imaginary structures. One year after we got a new refrigerator, my husband and his mother really went to town helping our son make it into a very fun plaything. A few cuts into the cardboard, a few swashes of poster paint, a long closet rod, and an old sheet (that was my contribution) turned a simple packing box into a sailing ship that provided hours of entertainment. It was practically free – no fancy toy could ever compare to that price.
One year friends of ours collected such boxes in anticipation of a knights-in-shining-armor birthday party. The very clever father created a castle, complete with working drawbridge, in their basement. Amazing! The kids had way more fun than any bounce house crowd I ever saw.
This simple activity takes something that is really trash and transforms it into something fun. Eventually it can be recycled, but in the meantime, we can milk all the entertainment out of it as possible. Waste not, want not!
If you're not buying any big appliances anytime soon, talk to friends and family who are and see if you can have their boxes. Often the appliance store carts the boxes away; talk to their delivery department and see if you can have some of their unwanted cartons. Then, the activity is totally free.
Frugal entertainment – it's the best kind of fun!
What wonderful creations have you and your family made out of cardboard boxes? Share it in the comments.
Got a great money saving tip? Share it with us!
Write about it on your blog and bring your link back here. Anyone is welcome to participate provided that both the blog and the post are family-friendly.
Please remember
1. to add a link to www.LifeasMOM.com, so that your readers know where to find all the other good stuff that people are sharing. (It's always good to share, isn't it?)
2. to make sure that the link you share here directs us to your post, not the main page of your blog. You can find directions to do that here.
Looking forward to your great ideas!