How to Economize When Getting Hitched
We are a participant in the Amazon Services LLC Associates Program, an affiliate advertising program designed to provide a means for us to earn fees by linking to Amazon.com and affiliated sites. We participate in other affiliate programs as well. For more details, please see our disclosure policy.

This week my husband and I celebrated fifteen years of marriage. I think it's now official – we're no longer newlyweds. It was so fun to go through the wedding pictures this week. A flood of memories came back. And with it came thankfulness for two most important men in my life.
My husband, obviously, is one of them.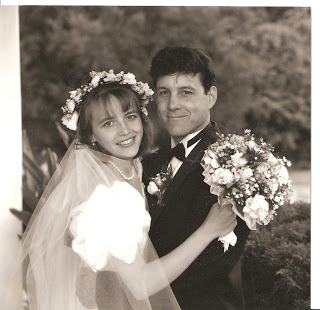 The other is my dad.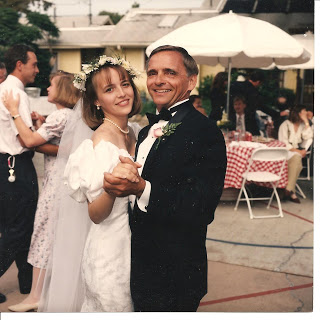 I was twenty-one when Fish and I got engaged. As I was the oldest of five chidren, the first of three girls, I probably scared my dad to death by getting married. And I didn't make it easy on him. Always the know-it-all big sister, I thought that I, well, knew it all. And I wasn't afraid to tell my siblings – or my parents – what I thought. Unfortunately.
And I was none too pleased when my dad set a limit on my wedding budget. Today, however, I'm thankful for that. I'm glad that he put his foot down and didn't budge. I'm glad, Dad! Thank you! (My sisters are reading this and shaking their heads, I'm sure.)
But it's true. Not only does it give me bragging rights to a beautiful, frugal wedding. But, it also gives me one less thing to regret about my earlier years. Ha!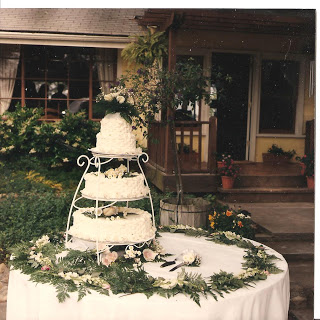 So, here's how we had a wedding and a reception for 135 on $5000. I'm not sure how that number goes over for you. But, for Santa Barbara 1994, that was a low-budget wedding. One study shows that the average cost in 1990 was $15,000 while today the average appears to be around $20-25,000. FishMama say, "Ouch!"
I offer up our experience today as inspiration for those getting married to see how you can economize and as encouragement to those around them to see how you can bless them and get them off to a great start in "acting their wage." We could not have done what we did without the generosity and help of friends.
Here are four tricks that I used to keep our costs down.
1. I wasn't too picky. I was so glad to be marrying Mr. Right for Me that I didn't obsess about small details, like what kind of silverware to have at the reception or to have a custom-made dress. I picked out dinnerware that was on the lowest end as long as the pieces more-or-less went together. I didn't even look at more than one bridal store. I bought a semi-formal gown off the rack. I didn't specify what kind of flowers, except that I wanted some roses in the mix. That allowed the florist to go with what was fresh, in season, and economical.
2. I chose simple things. The simpler you go, the less expensive it is, generally. Rented, checked picnic table cloths and mason jars filled with wild flowers made simple and casual tablescapes. I saved every spaghetti sauce jar for three months until I had enough for the tables, but that was better than buying vases.
3. I made stuff myself. I made my own veil, the ringbearer's pillow and the flower girl's dress. In this day and age, there's no limit to what you or your friends could do. I splurged on invitations ($350), but today I would have printed them myself and tied on cutsie bows or something. Our culture is open to all sorts of DIY options. Just make sure they really are more economical.
4. I had friends in high places. Many of the services that we had to hire, we employed friends to do the job or they volunteered it as a gift. (This is a great way to bless someone if you're skilled in an area needed for a wedding!)
Our landlords offered their home for the reception. A college roommate donated the cake, baked by her caterer boyfriend. One of Dad's friends had a DJ business. One of Mom's friends did flowers on the side. I had worked for the University Catering in college, and they worked with us until we found a menu in our price range.
If you're planning a wedding or know someone who is, you may want to check out these links:
Planning a Wedding on a Budget – Money Saving Mom
A Host of Shoestring Wedding Posts – Like Merchant Ships
How to Plan a Frugal Wedding – Healthy 'n' Happy Home
Now what's your money saving idea for the week? Share it with us!
Write about it on your blog and bring your link back here. Anyone is welcome to participate provided that both the blog and the post are family-friendly.
Please remember
1. to add a link to www.LifeasMOM.com, so that your readers know where to find all the other good stuff that people are sharing. (It's always good to share, isn't it?)
2. to make sure that the link you share here directs us to your post, not the main page of your blog. You can find directions to do that here.
Looking forward to your great ideas!
(Mr. Linky has had some issues this week. If the widget doesn't show up, leave your link in the comment section or try again later.)