Cut grocery costs by making the most of in-season produce. Here are some tips to get the best prices and enjoy the fruit of the season.
One of the ways we cut costs at our house is to stock up on grocery items when they are on sale. Stocking up is a particularly good habit as it relates to fresh produce. Now that summer is in full swing, this is the time to take advantage of great prices on fruits and vegetables.
But, how can you make the most of what's in season?
Making the most of in-season produce
1. Let the sales and low prices determine your menu for the week.
Those who subscribe to CSAs understand the concept, as do those who live in areas rich in agriculture or who grow their own food. When the corn is ripe, corn's on the menu!
Let your produce section, farmer's market, or your own garden be your guide to meal planning. Now is the time for fresh tomatoes and sweet cherries, not pumpkins and squash.
Tammy's Recipes weekly features an in-season recipe swap. Check it out for inspiration about how to fix what's ripe this week or browse these posts: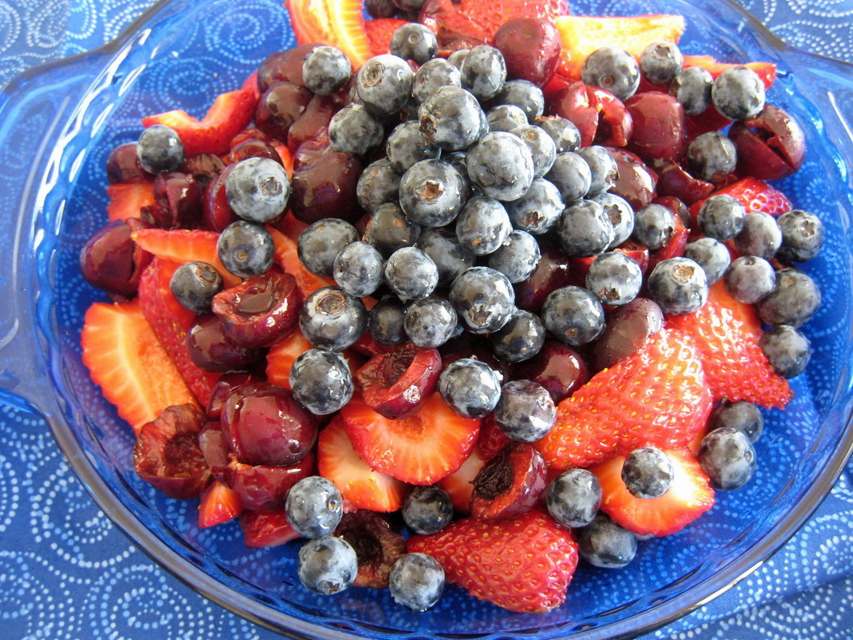 2. Experiment with new recipes.
You may not be familiar with all the different ways to prepare a certain fruit or vegetable, but that shouldn't stop you from enjoying them. Spend a few minutes online searching for recipes that you might like to try.
We were pleasantly surprised to find that sweet cherries (as opposed to tart, pie cherries) still make a great pie. FishPapa was shocked that it didn't taste like those baked by Dolly Madison and said I may have redeemed the cherry pie for him. Amen to that!
Experiment and try new things out. A friend's Cherry-Limeade Cupcakes inspired me to tweak my favorite muffin recipe with the same flavors. Try my Cherry Limeade Muffins if you've got a handle on some sweet (& cheap) cherries.
Check out these recipe round-ups:
3. Process your own produce for canning and freezing.
Our grandmothers knew a thing or two that's been lost over the years. One of those things is the lost art of food preservation. Several years ago when we lived in a more rural area, I taught myself to can. I loved seeing rows upon rows of olallieberry jam jars lined up on my counter after a few sweaty hours of hard work.
I live too far from the olallieberry fields these days, but I recently picked up a small truckload of sweet cherries and strawberries for great prices – $0.99 and $0.69 per pound, respectively. We ate a bunch fresh, baked up another portion in muffins, pies, and scones, and then packaged the rest for freezing. I now have several bags of both fruits in my freezer for baking and smoothies. The price of doing this myself is far lower than I would pay for the pre-frozen equivalent.
With a little work (and maybe some cherry-stained hands), you can enjoy fresh produce on the day you buy it and beyond. Just watch the prices and be adventurous.