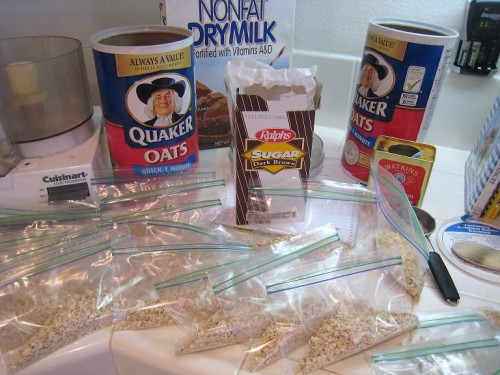 Last week I mentioned how I love breakfast in a box. It makes our mornings go so much more smoothly when I serve food that is easy to prepare, easy to clean-up. The kids can actually do it all themselves! Cold cereal and instant oatmeal are the favorites. But, recently they went through one box of instant oatmeal (10 packets) in one morning! So, since I haven't seen killer deals or coupons on instant oatmeal, my ears perked up when many of my readers said that they make their own mixture.
In addition to the tips they provided and this recipe from The Simple Dollar, I did a little internet searching and came upon a recipe from The Kitchn. All my hunting was so that I could determine whether old fashioned oats would work in this application. I have a ton of old fashioned oats because that is the kind that I like. I had two partial cartons of quick oats. We did some taste testing and came to the conclusion that the kids preferred the quick oats. So I set up my assembly line of baggies, sugar, oats, milk, cinnamon, and salt. I had all the ingredients except the snack bags. Since we used less than half the box, the experiment cost me less than a buck. And since we're going to reuse the bags for more instant oatmeal, it will cost even less.

Recipe: Instant Oatmeal Packets
Ingredients
1/4 cup quick oats
1 teaspoon milk powder
1/8 teaspoon salt
2 teaspoons brown sugar
1/4 teaspoon cinnamon
Instructions
Combine all ingredients in a small snack bag. Shake to combine. Store in freezer for longest shelf life.
To serve, empty packet into a bowl. Add 1/4 to 1/2 cup water. Cover and rest for 1 minute before serving.
For longest shelf-life, store the packets in the freezer.
Preparation time: 1 minute(s)
Cooking time: 1 minute(s)
Number of servings (yield): 1
Yes, it's a lot of cinnamon, but the kids like it that way and my aunt gives me boxes of cinnamon every year for Christmas, so it's all good. And since we don't like watery oatmeal around here, I only added 6 Tablespoons hot water to the mixture when FishBoy 5 asked for a bedtime snack.
This method of breakfast preparation took some time on the front end, but should save me time in the long run. And at $1.89/box for Walmart-brand instant oatmeal, it should save me some pennies, too.
In case you missed it, Good Cheap Eats is hosting a Build a Frugal Pantry series. This week is all about stocking and using whole grains as a way to save money on food costs. It may prove to be a great frugal way for you, too.
What do YOU do to save money?
Share the permalink to your favorite money saving idea in Mr. Linky below or leave a comment. In the interests of sharing solid frugal advice, please do not post giveaways, deal posts, or affiliate links. Tell us a money saving concept that helps you stay in the black. And please, link back to Lifeasmom.com so that your readers know where to find the party.