Frugal Friday: Mother's Day Gift Guide, Part One
We are a participant in the Amazon Services LLC Associates Program, an affiliate advertising program designed to provide a means for us to earn fees by linking to Amazon.com and affiliated sites. We participate in other affiliate programs as well. For more details, please see our disclosure policy.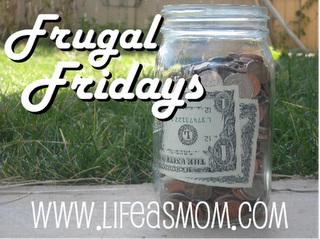 Mother's Day is about two weeks away. (Husbands, wake up!)
Whether you are celebrating your own mother or another special mother in your life (wife, sister, friend, mother-in-law), it is in the best interests of your wallet — and your reputation — to plan ahead. When we plan our gift-giving in advance we are less likely to overspend or spend Sunday morning in a Hallmark store.
Here's a round up of ideas to inspire you:
:: Dinner's On Me::
Prepare a freezer meal to deliver to a busy mom. In some ways it's so much better than a hot meal as she can save it in the freezer for a day when she really needs it. My favorite meal to deliver is lasagna and garlic bread because everything is self-contained. Throw in a bagged salad and maybe some chocolate butterhorns and you've got a veritable feast. Don't forget to include a card with serving directions.
Total cost, as pictured, $5.00 (cute child not included)
:: Let Me Entertain You ::
An Entertainment Book usually pays for itself, especially when purchased at the lowest rate, $15 with free shipping. Our new book is filled with coupons for the grocery store as well as restaurants that we regularly visit. For our family, it's a definite money saver.
Total cost, $15.
:: Tea for Two ::
Put together a little tea party, complete with matching mugs, tea and cookies. Readers suggested adding antique tea spoons, a small jar of honey and sugar cubes. What a sweet treat!
Total cost, as pictured, $4.18
:: The New Calling Card::
Years ago women regularly carried "calling cards," elegant cards to leave with new friends and acquaintances. The business world has certainly carried on the tradition and now mothers have their own cards. These are perfect to leave with new friends that Mom makes on the ball field, at playgroup or at the PTO.
Total cost, starts at $1.99, depending on where you buy
:: Grab a Good Read ::
Magazines are a monthly reminder of your love and friendship. Buy a current issue from the newsstand and wrap it with a card promising a new issue every month. There are multiple places to get good deals on subscriptions:
Total cost, starts at $3.75
Got another frugal Mother's Day Gift idea? I'd love to hear it!
What do YOU do to save money?
Feel free to share your experiences with frugal Mother's Day gifts, but you are not required to comment or post about that. Simply share whatever YOU do to save money.
Share the permalink to your favorite money saving idea in Mr. Linky below or leave a comment. In the interests of sharing solid frugal advice, please do not post giveaways, deal posts, or affiliate links. Tell us a money saving concept that helps you stay in the black. And please, link back to Lifeasmom.com so that your readers know where to find the party.