Frugal New Year Goals
We are a participant in the Amazon Services LLC Associates Program, an affiliate advertising program designed to provide a means for us to earn fees by linking to Amazon.com and affiliated sites. We participate in other affiliate programs as well. For more details, please see our disclosure policy.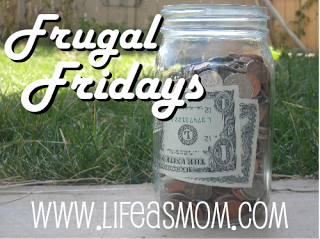 Happy New Year!
I love January 1. There's just something invigorating about it. We get a fresh start! While 2009 was great in its own respects, I'm looking forward to growing and improving in 2010.
This Frugal Friday is dedicated to any financial goal you might have. There's safety in numbers. It always feels better to know that other people are in this money-saving boat with us.You can share your progress on an old one or share your hopes for a new one. It doesn't have to be anything wild and crazy. Staying on a budget is good enough. I'll be sharing more tomorrow about why you should have a budget.
My personal goal? Oh I have so many. But, here are my top three:
Get my grocery budget consistently under $600. Read how I plan to do that this month.
FishPapa and I are going to start working ourselves up the Baby Steps. Our next one is to work on retirement and college funding. Dave recommends 15% of household income to go toward this category. We're going to crunch some numbers and see what we can do.
Try out this envelope system for paying things in cash. I've gotten a little lax and have been using a debit card. I have a sneaky suspicion that I'm spending more as a result of that. (You can make your own envelopes — prettier ones, too — if you use Kellie's template. Oh my! Somebody want to do this for me? Too cute!)
What are YOU going to do this year with your money? Will you
kiss those credit cards goodbye?
pay down debt?
start using a price book?
create a budget and try to stick to it?
start investing 15% of your household income in retirement?
sock money away toward buying a house?
forego the morning Starbucks stop and put the money toward something more tangible?
These are just a few ideas. But there is no end to what you could dream up. Consider at least one improvement you could make in your family's finances and share it with us. Post it on your blog and bring the link back here or simply tell us about it in the comments section.
So, what are you gonna do?