Frugal Tip: Organize Your Wallet to Save Money
We are a participant in the Amazon Services LLC Associates Program, an affiliate advertising program designed to provide a means for us to earn fees by linking to Amazon.com and affiliated sites. We participate in other affiliate programs as well. For more details, please see our disclosure policy.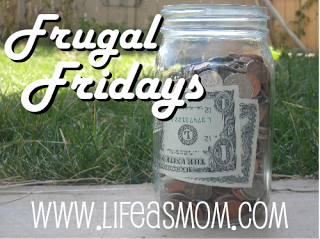 It sounds funny to say so, but one great way to keep money in your wallet is to look in your wallet — often. If you don't have a good idea of what's in there, you may be liable to spend more than you have or to let great savings opportunities slip through your fingers. An organized wallet could save you from both!
Before you make your budget for the month, you might want to take stock of what's in your pocketbook and see how you can make the most of what you have. This morning over coffee I switched into my new wallet and thus, cleaned out of my purse and old wallet a myriad of interesting things, including my Kansas State Driver's License that I have not used in 15 months. Hello! How's that for "out with the old and in with the new?"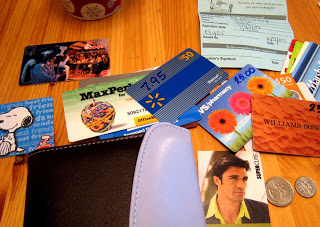 Some things to consider as you clean and organize your wallet:
How much money is there? When was the last time you balanced your checkbook.This is always good to know. If you have an accurate sense of what you have, you'll (hopefully) be a better spender.
Are there gift cards to be redeemed? Do they expire? Do they charge a fee for every month that goes by that you don't use them. We've lost out on more than a few bucks due to unseen charges on gift cards. You need to use the funds or lose them. Call or go online to check the balances and write the amount on the card with a sharpie. Make a point to use them in the near future. I put mine in the envelopes that fit those categories. For instance, the Chick-Fil-A card goes in my Mom's Night Off envelope, but the WalMart card went into my grocery envelope.
Consolidate receipts. Do you have anything to return? Make sure you do so within the time frame on the receipt. If not, pitch them or file them, whatever your prerogative. Are there any coupons or vouchers attached to your receipts? I found some for IKEA which I put in the household envelope. Hopefully, I'll remember to use them next time we go. Are there any surveys to complete? Often these produce a free meal or a savings coupon. If you've got the time and the price is right, take the survey.
Consider going to envelopes. We've gotten out of the habit of putting cash in envelopes, but I'm hoping that going back to it will help us spend less. It's a little more cumbersome than plain cash or a debit card, but hopefully it will help with the budget. (If you haven't already, check out the pretty ones from KelleighRatz. Too cute!)
Are there any catalinas, Register Rewards, or ECBs that are going bad in your wallet? (I found an expired "dollar" from Walgreens this morning.) Put them in your grocery envelope or with your coupons and remember to treat them like cash.
How do you save money? Share your frugal tip with us.
In the interest of exchanging good ideas, please do not post posts that are solely affiliate links, giveaways or deal posts. Instead tell us what you do to stretch your dollars a little farther. Share concepts and ideas that have helped you grow in saving money and being a better steward of your resources.
Write about your money saving tip on your blog and bring the permalink to that post here. If you find your link has been deleted from Mr. Linky, it is probably because you linked to your blog's home page instead of the post itself. If you need help, go here.
As a courtesy to me, your lovely hostess, please make sure that you link to www.LifeasMOM.com in your post.
If you don't have a blog, tell us your bright idea in the comments. Can't wait to learn some new tricks!