Planning for Christmas on a Budget
We are a participant in the Amazon Services LLC Associates Program, an affiliate advertising program designed to provide a means for us to earn fees by linking to Amazon.com and affiliated sites. We participate in other affiliate programs as well. For more details, please see our disclosure policy.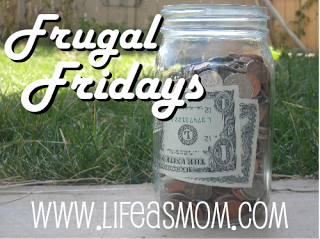 Yes, I know, it's not even Thanksgiving yet. I know. I cringed, too, when I saw the Walmart staff frantically stocking Christmas items on October 31st. The rush is on. Retailers are all too eager to grab hold of your hard-earned cash.
But, if you aren't already planning for Christmas, you will pay too much because you won't have time to do a price comparison, to think through what you actually want to buy, or to think through why you're doing it all in the first place. Now is a great time for you to start thinking and strategizing. One way you can do that is to through good reading.
Over the years, I've found four books that specifically address a simpler and more budget-friendly holiday season. If you can borrow them from a friend or a local library, I highly recommend that you do so. You may not agree with everything they say, but I promise they will get you thinking about why you do what you do at Christmastime and how to spend it — and your money.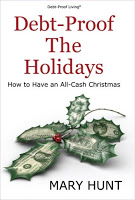 Debt-Proof the Holidays by Mary Hunt tells you "how to have an all-cash Christmas." By offering the rationale for cutting the credit as well as giving you practical means to celebrate without going in debt to do it, Mary covers the bases of surviving the holidays without living beyond your means. And she knows from experience. She herself lived years encumbered by credit card debt and paid every penny back. She knows how to live in high style, but she also knows how to act her wage.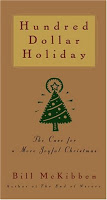 Though a small book, Hundred Dollar Holiday: The Case for a More Joyful Christmas packs a big punch. Author Bill McKibben recounts the tale of how he and his family made a pledge one year to limit their holiday spending to $100. Not only did they stay under budget, but they had more fun, were more creative, and found more joy in Christmas. So much so, that it's become a tradition amongst their family and friends. One of the things I enjoyed about this book was the history of modern day consumerism. Fascinating! What would you do if you only had a hundred dollars to spend on Christmas? What a great question!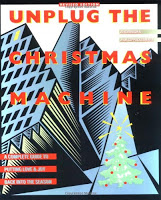 Unplug the Christmas Machine: A Complete Guide to Putting Love and Joy Back into the Season is actually a compilation of the questions and solutions of dozens of people around the country who desired simplification of their holiday. The backgrounds of the people are extremely varied, but their solutions are applicable to many situations. Though not a "Christian" book, it does ask heart questions that delve into one's spiritual goals and desires for the Christmas season.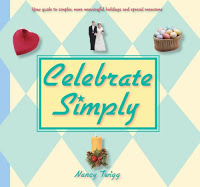 Celebrate Simply: Your Guide to Simpler, More Meaningful Holidays and Special Occasions – In a down-to-earth writing style, author Nancy Twigg presents practical and inspiring suggestions to simplifying all your celebrations. This book provides clever ways to give meaningful gifts that are within your means, add spiritual significance to your celebrations, and extend hospitality without the stress of trying to impress guests.
I love Christmas, but I don't love the stresses that we bring to the celebration of Jesus. So, I want to be wise, I want to plan, and I want to save. Over the coming weeks, I'll be addressing different ways that we can all save money at the holidays. I hope you'll join me and give your two cents.
December 10th will be a special themed week for Frugal Friday. Bring your suggestions and creativity to the topic: $10 Gifts. I'd love to see how creative we can be with our deals and steals!
In the meantime, what do you do to save money? Share it with us!
In the interest of exchanging good ideas, please do not post affiliate links, giveaways or deal posts. Instead tell us what you do to stretch your dollars a little farther. Share concepts and ideas that have helped you grow in saving money and being a better steward of your resources.
Write about your money saving tip on your blog and bring the permalink to that post here. If you find your link has been deleted from Mr. Linky, it is probably because you linked to your blog's home page instead of the post itself. If you need help, go here.
As a courtesy to me, your lovely hostess, please make sure that you link to www.LifeasMOM.com in your post.
If you don't have a blog, tell us your bright idea in the comments. Can't wait to learn some new tricks!
Encouraged by what you've read?