Frugal Tip: Sell Something
We are a participant in the Amazon Services LLC Associates Program, an affiliate advertising program designed to provide a means for us to earn fees by linking to Amazon.com and affiliated sites. We participate in other affiliate programs as well. For more details, please see our disclosure policy.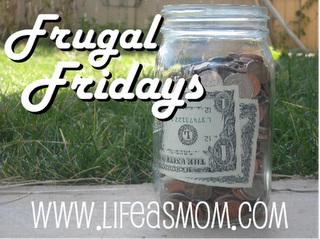 Over the years when our budget has been tight, we've tried to be creative at spending less and earning more.
One way to make more is to sell stuff.
Oh my! How much "stupid tax" have I paid in selling expensive stuff that I shouldn't have bought in the first place? Usually, I rarely get that money back when I sell it, so we chalk it up to a loss and try not to do it again. In some instances, though, we've more than got our use out of something and have been happy to part with it so that someone else can benefit from it.
Either way, the extra cash is helpful. In the past we put it toward our debt. Now, we use it to upgrade something that we have been wanting. One year when we were actively attacking our debt, there just wasn't enough fat in the budget to buy some new homeschool curriculum I wanted. So, I rifled through my school supplies and sold a lot of books and resources that we didn't use on ebay. In the end, I earned enough to buy the new stuff we wanted.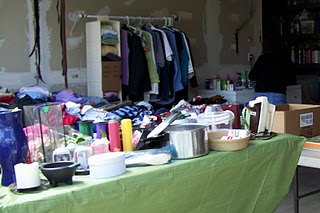 Out with the Old
There are lots of ways you can sell stuff and earn a little bit of money. Plus, you'll be doing some decluttering in the process.
Hold a garage sale. The one time that I was really successful at this was when I had Money Saving Mom helping me. (Yeah, I lucked out major big time.) Check out Crystal's 1o Tips for a Successful Garage Sale for her suggestions.
Sell on Ebay. It's not rocket science. Really and truly. I never read directions, much to my husband's chagrin. But, we have made a fair chunk of change selling books and music equipment on Ebay.
Advertise on Craigslist. We've had great success buying via craigslist. And we've sold a small handful of items through this free online classified ads service. Please use caution when selling. Don't have buyers to your home if you are alone. Don't reveal when you leave for work, etc. Creeps can still look like nice people. Safety warnings aside, craigslist can be a great, free resource to use in advertising things you want to sell.
Sell your books through book buying services. I've had great success selling books to both Cash4Books as well as CKY Books.
Trade or sell at Children's Orchard. There are probably a number of used clothing stores for children like Children's Orchard. This is the only one I've had experience with. I was amazed to walk away with $45 for items that my kids had outgrown or didn't like or we had just too much of. I could have traded for a higher amount of store credit, but since we didn't need anything, cash worked better for me. Chances are you have a store like this near you.
I'd love to hear what other ways you use to sell the stuff you no longer want or need.
And for that matter, what do you do to save money in general?
Share your great money saving ideas with us, too. Tell us in the comments or leave your link in the widget below. Can't wait to see what clever ideas you have for spending less and earning more.
(Please no giveaways, deal posts, or affiliate links that do not impart money saving principles.)