Tips for a Smooth and Frugal Move
As an Amazon Associate I earn from qualifying purchases. For more details, please see our disclosure policy.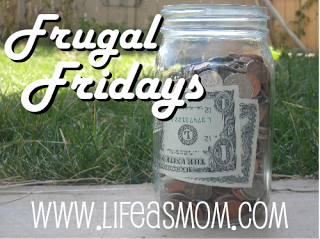 If you've read LifeasMOM for any length of time, you'll know that my "life as MOM" is in constant flux, particularly over the last year. We've had a baby, moved cross country, and adapted to the new seasons of development that each of our kids has entered at ages 12, 8, 7, 5, 2, and 1.
Now? We're moving. Again.
About three months ago, just when I was ready to dig in and settle in this home, our landlords said they wanted the house back.
Aww, shucks. (Or something to that effect.)
And now the day is fast approaching when we're going to transplant our little brood once again. So, while I'm busily packing and cleaning, my friend, The Happy Housewife, has offered words of wisdom for a smooth and frugal move. I thought it super-appropriate to let her do the talking this Frugal Friday. I'll be back in a few weeks with the continuing saga of our Get-Out-Of-Debt story.
Excuse me, I need to go pack a box.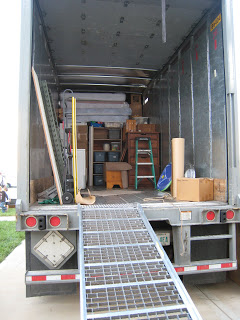 I have moved over 15 times in my adult life. I have moved overseas, across state lines, across town, and even across the street. While each move has been different, there are a few things you can do to simplify your move and save some money in the process.
Don't buy boxes! Use Craig's List, Freecycle, and the Uhaul Message Boards to find free boxes in your area. Liquor boxes are a great size for books and glassware. I also drove around the military base I lived on and looked for people moving in, then asked if they would mind if I took their boxes when they were finished. Most people were happy to give me their boxes because it meant they didn't have to haul them to the dumpster.
Great creative with packing paper. A box of packing paper costs about $8. This is a good investment if you have a lot of breakable items, or are moving long distances. You can also use plastic and paper grocery bags, newspaper, towels, fabric, sheets, blankets, and cloth napkins to protect your items. To avoid newsprint on your items, wrap them in a plastic grocery bag first, then wrap in newspaper.
Ziplocs are your best friend. Put kitchen utensils, silverware, pens, and other small objects in ziploc bags and then pack them in a larger box. This will keep these items from getting lost in a sea of paper, and they will also stay clean. When you get to the new house you just unzip and dump into the correct drawer.
Purge before you move. Packing is a great way to sort and organize the items you already own. I tend to pack with a garbage can next to the box. If I don't love it, like it, need it, or want it, it goes into the garbage, not the box.
Label the boxes for the rooms you want them to go into. Obviously this only works if you know where you are moving. You can color code your labels by room, and also write a brief description of what is inside the box. This will make unpacking much easier.
For across town moves, leave items in drawers. This saves time (packing and unpacking) and money (less boxes).
Involve the kids. Kids are good packers when it comes to toys, stuffed animals, and other nonbreakable items. Give them a box and let them pack certain areas of their rooms.
Get the right sized truck. If you are moving a large household it is worth it to rent a big truck. Moving on a weekday will save money. Check all the truck rental places to see who has the best deal. If you move during the off season, many times places are willing to negotiate on the price of a rental.
Save your back and rent a dolly. Or if you move frequently, buy one. We finally bought one a few years ago after renting one for $12 each move. We paid $50 for the dolly and it has already paid for itself after a few moves.
Get the insurance. Truck insurance costs about $15. It is worth it. I am not saying how I know this, but I know.
Pizza is cheaper than paying movers. Ask friends to help you on moving day and make sure your provide food and drinks. You might spend $75 in pizza but that is much cheaper than paying movers. During our last move we had almost 40 people from church show up to help move. It took about an hour to unload the truck and set up all the furniture in the house.
Remember moving can be fun. There is something exciting about starting afresh in a new (to you) home. New rooms to decorate, the fun of opening boxes and rediscovering toys, and the opportunity to make new friends and neighbors can help ease the transition to your new home.
— Toni is a homeschooling mom to seven and proud Navy wife. You can find her at her blog The Happy Housewife, where she shares tips on debt free living, cooking, crafting, homeschooling, green living, and life with seven kids.
Got a great money-saving tip? We'd love to hear it.
In the interest of exchanging good ideas, please do not post affiliate links, giveaways or deal posts. Instead tell us what you do to stretch your dollars a little farther. Share concepts and ideas that have helped you grow in saving money and being a better steward of your resources.
Write about your money saving tip on your blog and bring the permalink to that post here. Please make sure that you link to www.LifeasMOM.com in your post.
If you don't have a blog, tell us your bright idea in the comments. Can't wait to learn some new tricks!