Frugal Tip: Treat Your Coupons Like Cash
We are a participant in the Amazon Services LLC Associates Program, an affiliate advertising program designed to provide a means for us to earn fees by linking to Amazon.com and affiliated sites. We participate in other affiliate programs as well. For more details, please see our disclosure policy.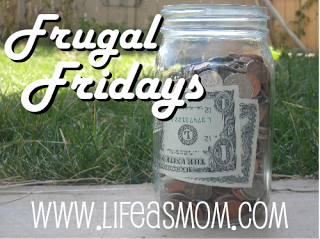 I'm still working on getting order into my new home. I tackled over twenty boxes yesterday in my efforts to get it all done sooner rather than later. But, I've many mountains (of boxes) left to go.
I'm thankful that my friend Heather from Freebies4Mom was willing to guest post for Frugal Friday today. Heather is a veritable wealth of money saving ideas. If you don't already subscribe to her blog, you should. Every week she's got the scoop on great coupons and freebies. She helps me immensely!
And if you don't regularly read LifeasMOM, know that I post every week about how I shop for our household of nine on $150/week. My Grocery Geek series is the continuing saga of how I feed our family on a budget with coupons and without.
I hope you'll enjoy Heather's suggestions for how to best use and guard your hot little coupons.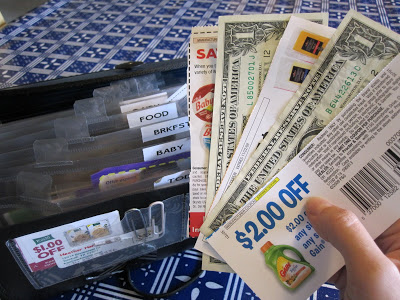 Using coupons on products you normally buy keeps more cash in your wallet. That's why you should treat your coupons like cash.
Here are some tips on how to respect and protect your valuable coupons:
Avoid fly-aways
You wouldn't let a dollar bill fall on the ground outside the grocery store, so why would you let a coupon that can potentially save you a dollar? Do not throw those Catalina coupons that spit out at the register on top of your bagged purchases. You should immediately put those coupons inside your purse or your coupon file so there is no chance they will "fly away" between the cash register and your car. I have found lots of coupons on the ground outside the store, and I've even found coupons for free products and Walgreen Register Rewards! That's like leaving cash on the ground – and I like to keep cash in my wallet.
Keep them organized
If you can't find a coupon to use it before it expires, then it's not saving you any money. A well-organized coupon file saves you time and money. I like to keep things simple and file my coupons in a plastic accordion-style file labeled with major categories.
Protect them if "Lost and Found"
Write your name and phone number on your coupon file. This increases the chances of it being returned to you if you loose it. I personally have lost my coupon file (with over $100 worth of coupons inside) by leaving it in the grocery cart in the parking lot. I did not have my name and phone number on it, but fortunately it was returned to the Customer Service desk and I picked it up the next day.
Don't commit coupon fraud
Don't even try to use a coupon that has expired or coupons that have been copied. There are enough legitimate coupons out there that everyone can save money. When coupon fraud becomes a problem at stores, guess what happens? All consumer lose because that store stops accepting these types of coupons that are being abused (free product or printables).
Be generous with coupons
Some coupons might not be capable of saving you cash because you're already stocked-up on a product, or they are for products you don't normally use. Give these coupons to others who can use them, or simply be a coupon fairy.
What are your tips for treating your coupons like cash?
— When not chasing after two kids, Heather blogs at Freebies4Mom.com from Houston with the hope to spoil her readers with new freebies each day.
What do YOU do to save money? We'd love to hear it.
In the interest of exchanging good ideas, please do not post affiliate links, giveaways or deal posts. Instead tell us what you do to stretch your dollars a little farther. Share concepts and ideas that have helped you grow in saving money and being a better steward of your resources.
Write about your money saving tip on your blog and bring the permalink to that post here. Please make sure that you link to www.LifeasMOM.com in your post.
If you don't have a blog, tell us your bright idea in the comments. Can't wait to learn some new tricks!