Frugal Tip: Christmas Stockpiling – Don't Go Overboard
We are a participant in the Amazon Services LLC Associates Program, an affiliate advertising program designed to provide a means for us to earn fees by linking to Amazon.com and affiliated sites. We participate in other affiliate programs as well. For more details, please see our disclosure policy.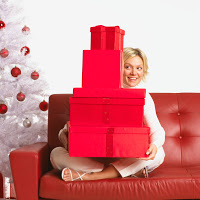 This week we've talked a lot about planning ahead, buying ahead, and cooking ahead for the holidays. Just giving a few thoughts to Christmas now will help us be a little more organized (and joyful?) when the season really rolls around.
But, there can be too much of a good thing.
One of the things that I love to do on Dec 26th is wake up when it's still dark and dash off to SuperTarget where I can nab all sorts of deals at the after-Christmas sale. It's kind of sick to be standing in sub-zero weather with fifty other people, waiting for the doors to open. Just so I can get a few rolls of wrapping paper half price.
There is a kind of frenzy that occurs once the front door is unlocked. People dash for the back of the store as if their hair is on fire!
Stockpiling for Christmas can be a good practice of stewardship if
I have the cash to do it, meaning it's allotted for in the budget.
I will stock up on things we will actually use.
But, stockpiling, whether for Christmas or any other time, can backfire on you. Ask me how I know.
Ask me about the 30 miniature Christmas tins that sat in my holiday gift box before I realized I had absolutely no use for them and ended up ditching them in a garage sale.
Ask me about the wire Christmas card tree that kicked around my closet for two years before it went out with the donations because I don't own a coffee table to display it on, nor do I receive enough cards to make it actually hold something.
Ask me about the gifts that I so cleverly purchased ahead of time, but then forgot about in the attic.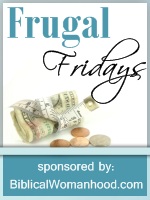 All week I've said, plan ahead. Start making gifts. Gather gift items now so that you won't feel crunched come the holiday season. I believe this is a good thing. Just keep good records. Plan accordingly. Stay within your means. Give thought to your purchases and make sure in your mind that it is, indeed, something you will use or gift away.
As Ma Ingalls says, "Enough is as good as a feast."
For more frugal tips, visit Crystal's blog every Friday.