Remember a few weeks ago when I was cooking like a fiend? Well, I successfully stocked my freezer with about 5-6 weeks' worth of meals. Everything from meatballs to lasagna, pasta sauce and black bean pie, chicken enchilada casserole and chicken packets.
Unfortunately, not all of these meals have been smashing hits at the FishTable. In fact, I kind of steel myself for at least a minor skirmish when some of these dishes come out of the oven. They're all good dishes. Keep that in mind.
In fact, last night FishPapa worked late and missed the battle that I waged earlier at suppertime. I sat with him while he ate dinner after we had finished. He said, "Wow. This is really good." (He qualified that with, "Or I'm just really hungry," but we'll ignore that part.)
My point is that the food is good, it's healthy and it's inexpensive. However, if it's a bomb with my kids, if I have to issue edicts of how many bites are required, if I have to pawn off the other frozen meals on unsuspecting friends, well, then it's no bargain.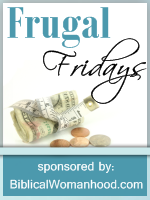 Tonight I made another frugal meal: baked chicken legs ($.79/#), seasoned rice ($.25/box), frozen corn ($.33/bag), and King's Hawaiian rolls ($.23/4 pack). They scarfed it down. There were a few raised eyebrows over the parmesan Rice-a-Roni, but I made everyone have one small spoon-ful, and they lived to tell about it. Most of them even liked it.
It pays to cook what they will eat.
For more frugal tips, visit Crystal's blog every Friday.