Enjoying Fast Food Without Spending a Fortune
As an Amazon Associate I earn from qualifying purchases. For more details, please see our disclosure policy.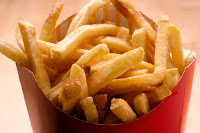 The FishFam loves to eat out! My 6 year old recently commented that he liked to eat out 'cause he didn't have to clear and wipe the table. Yes, I hear you, my boy.
But, eating out, whether it's for convenience or for the pure enjoyment of the food, can be very expensive, especially when you're feeding 7 people. For a birthday outing a few weeks ago we headed to Sonic, a FishBoy favorite. If we hadn't had several free birthday meals, we would have easily paid $40 for our family to have dinner. Ouch! No thank you. We just can't do that.
But, that doesn't mean we don't enjoy a meal or two of "fast food" every week or so. We just have a few tricks up our sleeve:
Don't get drinks. If we want sodas, I can get those super cheap at CVS, Walgreens or the supermarket. So, we make it a practice to order water when we eat out. It's better for us, anyway.
Split some fries. Again, health and frugality are both on our side in this. We don't each need to eat a ton of fries. Everything in moderation. So, if it's me and the kids, we split a large. If FishPapa is along, we splurge and share two orders. Either way, enough is as good as a feast.
Avoid those kids meals! Talk about OUCH! Half the time kids don't eat the full meal and then you've got a junky toy to trip over for a few weeks until you finally decide to chuck it. Instead, we order everybody his choice from the dollar menu.
Look at fast food as a treat, rather than an entitlement. It's a fun convenience, but it's not really good for you, nor necessary to life. Enjoying it sparingly will help your heart and your pocketbook.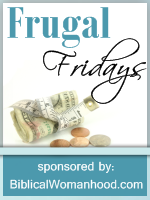 The kids and I can run through McDonalds for about 8 bucks for six of us. It's definitely more expensive than a home-cooked meal. But, considering that if I bought everyone a meal, our cost would be at least twice that amount.
For more frugal tips, visit Crystal's blog every Friday.