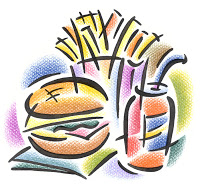 Normally, I plan out my menus for the week. This helps in a number of ways, particularly in budgeting. If I'm building from what's in the cupboard and adding just a few ingredients, I can make do with less. Usually, this entails cooking from scratch which has proved to be the most frugal way to feed my family.
However, there are times (like lots of contractions and packing and moving) when my head just isn't in the game. Recently, I've been able to fall back on a generous neighbor and my parents. Can you say McDonalds, Chipotle, and Culvers?
But, this doesn't work all the time. And, we can't really afford take-out everytime I am indisposed. I am realizing that we have to have a back up plan. So, here are my ideas for quick and cheap meals that you can easily keep stocked in the pantry. These are also simple enough that hubby and older kids can prepare these without a recipe.
* pasta salad – FishKids like this simple. One pound of penne, cooked according to package directions, tossed with oil and vinegar, garlic powder, Italian spices, and parmesan. I serve it on a bed of lettuce for adults and top with chopped tomatoes and olives.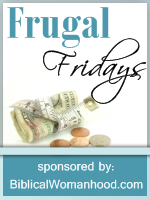 * beans and rice – cooked white rice, drained and heated black beans, grated cheese, salsa, sour cream, and tortilla chips
* cheese quesadillas – flour tortillas, buttered, filled with cheese, folded over, and fried until crisp. Serve with salsa and sour cream.
Have you got a cheap and easy meal? Share it in the comments! I need all the help I can get!
For more frugal tips, visit Crystal's blog every Friday.