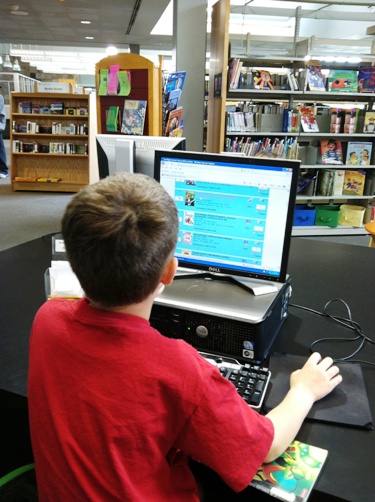 One of the things that I am so thankful for is our public library. We have saved hundreds of dollars over the last few years using this fantastic system. You see, not only did my husband and I spend $250/week on food back in the days, but bookstore shopping was a regular feature of our lives. We are both readers and could easily drop $40 per trip. Now, we borrow them from the library and keep the change.
Since I teach my children at home, the library is a weekly stop on our schedule. The boys check out books, videos, and computer software while I get text books, nonfiction texts, and primary source material.
We also regularly supply our Friday night movie nights with films from the library instead of renting them. In fact, I think it's been four years since we rented a movie. Even if it's overdue (gasp!), we only pay 15 cents a day! As soon as I hear about a new release, I hop online and "get in line" to borrow it. While we have to wait until it's our turn, the benefits definitely exceed the cost.
Plus, we're not limited to what our particular branch has on hand. Not only can we borrow from every public library in the county, but we can also borrow items via interlibrary loan – for free! It's rare that we can't get a book we would like to review. If we really like it, we buy it. But, this way we're not wasting money on books we may not come to love.
For more frugal tips, visit Crystal's blog every Friday.