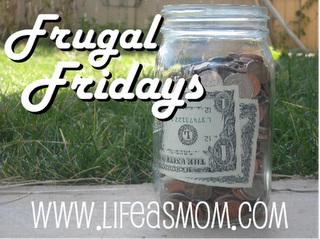 Frugal Friday is a great "meeting of the minds" to share frugal tips and tricks. As you know, we can all benefit from great ideas that have helped others save money. So, please share the wealth! Write about your favorite ways to save money each week, link to www.LifeasMOM.com and then bring your link back here.
Crystal established a wonderful forum for sharing great money saving ideas, and I am blessed to be able to carry on that tradition. But, I can't do it without you! So, I look forward to all the ideas and inspiration you have to share.
As with all good things, the more the merrier. Anyone is welcome to participate provided that both the blog and the post are family-friendly.
Some additional guidelines to remember:
1. Please add a link to LifeasMOM, so that your readers know where to find all the other good stuff that people are sharing. (It's always good to share, isn't it?)
2. Make sure that the link you share here directs us to your post, not the main page of your blog. You can find directions to do that here.
* Disregarding these guidelines may result in your link being deleted from the group. So don't do that, K?
Feel free to grab the button above to add to your post if you like.