Fun Advent Ideas for Families
We are a participant in the Amazon Services LLC Associates Program, an affiliate advertising program designed to provide a means for us to earn fees by linking to Amazon.com and affiliated sites. We participate in other affiliate programs as well. For more details, please see our disclosure policy.
The days of December mark the season of Advent, a time of anticipation of Christmas. This season in the church calendar mimics the anticipation of the Jews awaiting the arrival of the Messiah, over 2000 years ago.
I love Advent as it gives me an opportunity to take a deep breath, to remember WHY we do Christmas, and to make those reasons clear and meaningful to my children. Over the years, we've tried a number of different ways to count the days leading up to Christmas. I must confess that lighting a candle each week has never really caught on at our house. So, we've tried other ways to observe the Advent season. Two have remained in the mix and are slowly becoming family traditions.
25 Days of Family Fun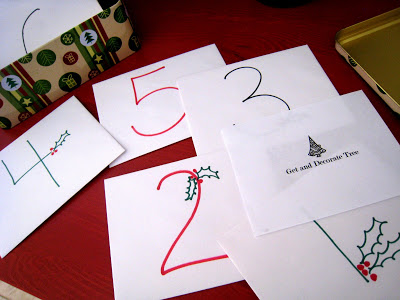 Years ago I made up these numbered envelopes and put a card in each one. Each day of December has an envelope and a card with a fun activity to do together as a family. You can put whatever activities your family enjoys doing during December. For us these include activities such as:
get and decorate the tree
watch The Grinch Who Stole Christmas
bake and decorate Jesus Cookies
have a family game night
go light looking
Some of the original activities that I thought up were total train wrecks. For some reason my children did not want to "eat dinner backwards." What kid says no to dessert first? Mine, apparently. So, be flexible and fight (your own) disappointment if your activities aren't all welcomed with open arms. Find something else that is, instead.
Jesse Tree Ornaments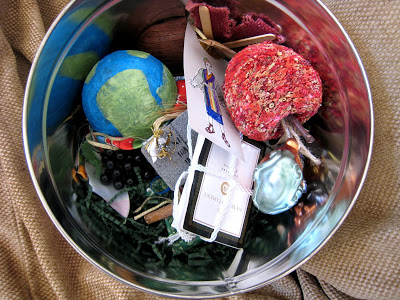 Years ago a friend gifted me a set of 25 Christmas ornaments that followed the lineage of Jesus from Creation to the Incarnation. Jesus was, after all, with the Father at the Beginning of the World, so it only makes sense that His story is woven throughout ALL of Scripture. Jesse Tree ornaments recount the story of Christ, the "root of Jesse." Many people choose to hang their Jesse Tree ornaments on a separate tree. But we hang out "Jesus ornaments," as we call them, on our regular tree. It keeps Jesus more at the center of our celebration. (We don't do this perfectly, but we try.)
We have a big Christmas tin that we store the ornaments in. I wrap each one separately sometime in November and mark it with a number, 1-25. Then each day of December, we open a different ornament and read the day's devotion from this book. It's a wonderful way for the kids and I to connect each morning and to focus on "the reason for the season."
What do you do for Advent? How do you stay focused on God at this time of year?