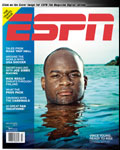 I don't know about you, but I think guys are hard to shop for. The things that they really like are generally higher priced than I can generally afford.
However, magazines are always a good bet. Especially if they address sports and fitness. (At least the guys I know.)
And you can find some great deals on magazines if you keep your eyes peeled. One great source is Best Deals Magazines which regularly offers subscriptions for as low as $4.69/year. (Simply click the link in the sidebar to see the lowest priced deals.) Currently, they have a great sale going on May 31 – June 6.
Take an Additional 20% Off ESPN and Fitness Magazines. Enter coupon code WKLYSPEC at Checkout.
There are tons of other choices, so pop over and check them out. Let us know what good deals YOU find.