Enter to win a fun giveaway from Big Idea, maker of the Veggie Tales.
THIS GIVEAWAY IS NOW CLOSED. CONGRATS TO THE WINNERS: rbebhb@, macampbell615@, maandbabybella@
I've told you before the fondness our family has for the Veggies. I can pretty much count on that my kids aren't going to learn any questionable behavior from the folks at Big Idea.
Unless of course someone starts wearing plungers on the sides of his head. But, that hasn't happened yet.
This past week Big Idea released two new DVDs: 3-2-1 Penguins!—Complete Season One, and VeggieTales: Little Ones Can Do Big Things Too. My younger set, aged 4 to 10, have really enjoyed watching an episode or two in the evenings this past week.
You should have seen the happy dance when we opened the package!
My older boys, though a little more grown-up at 15 and 12, have very fond memories of watching these very same shows when they were little.
This week I've got three sets of both DVDs to give away this weekend!
Each winner will receive a copy of  3-2-1 Penguins!—Complete Season One, and VeggieTales: Little Ones Can Do Big Things Too, compliments of Big Idea.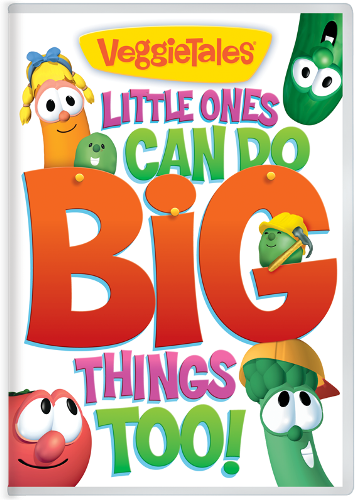 To Enter:
Simply complete the information on this form. Please know that the information is only being gathered for the purposes of mailing you your prize in the event that you are chosen as the winner. This information will not be sold, traded, or given away.
This promotion is open until Sunday, September 23, 2012, at 8 pm PST and is limited to US residents, 18 years or older. Friends and family of Jessica Fisher and Life as MOM are ineligible for entry. The winner will be chosen randomly. The prize for this promotion is provided by and shipped by Big Idea and/or its representatives. This post will be updated with the beginning of the winner's email address. Jessica Fisher and Life as MOM will not be held responsible for unclaimed or undelivered prizes.
Disclosure: I received review copies of these dvds. All opinions are my own.