Make homemade garlic herb pretzels. They are inexpensive at less than a dollar a dozen and so very tasty!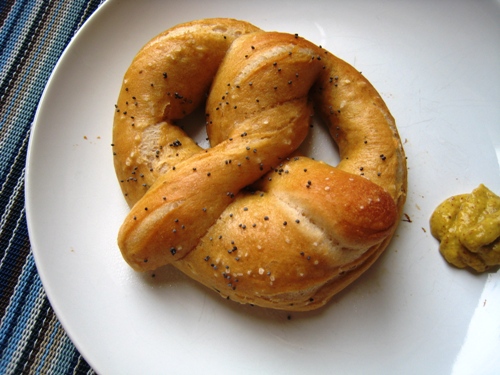 Oh my word. I make pretzels a few times a year. With each bite, I think to myself, "Why don't I make these more often?" These are so delicious, fun to make, and make you feel so accomplished when you pull them from the oven.
And did I mention how cheap they are to make? The flour is the bulk of the expense: 4 cups, which when on sale, equals about 50 cents. Add in some yeast, salt, herbs, and baking soda, and your cost is easily under a buck a dozen. Compare that to your shopping mall soft pretzel!
Want to learn how? Let me show you!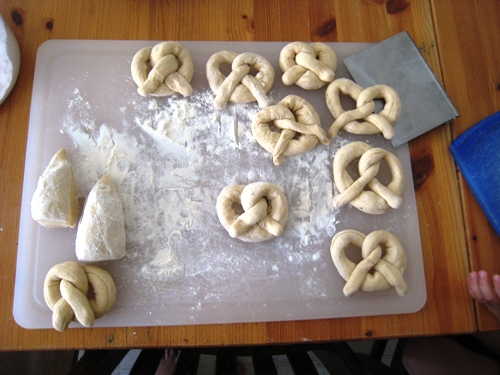 I've played with my standard pretzel recipe before, adding different toppings and dipping sauces. This time, I worked from the inside out, adding flavor in the form of garlic powder and dried herbs. I see all kinds of potential for rolls, hot dog buns, and pigs in blankets. The  chewy crust is amazing.
I also used white whole wheat this time, instead of regular grind whole wheat and unbleached flour instead of bread flour. I liked the texture and flavor of the bread immensely.
These make a fun addition to your dinnertime bread basket. So, bust out the bread machine or warm up your hands for kneading, and go make a batch.
Want more help in your life as mom? Get the newsletter!
Sign up for the newsletter for bonus offers, surprise giveaways, extra content, and special deals.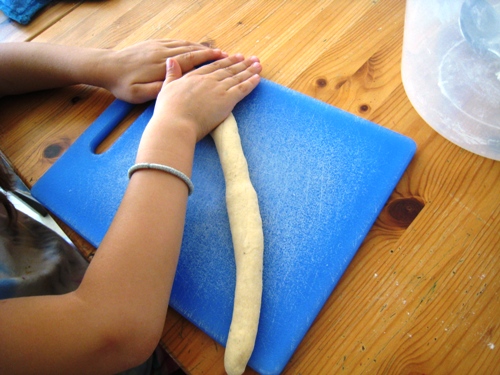 Once the dough was ready, my girls loved helping me shape the pretzels. Roll the dough into long snakes, and with a few flicks of the wrist, you can twist the dough into a traditional pretzel shape.
Lore says that pretzels were an early Easter tradition and that bakers created them to resemble praying hands. They were also used to hold hard boiled eggs in the "holes", thus taking their place in history as the first Easter baskets.
Once the pretzels are shaped, you'll need to give them a soda water bath. This starts the rising process again and gives them their nice chewy texture.
Yes, it seems like a lot of steps, but it's fun and tasty, totally worth it.
After the bath, you can sprinkle the pretzels with seeds and coarse salt. Then pop them in the oven to bake.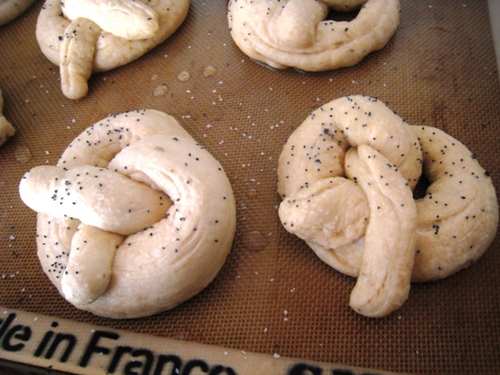 Recipe: Garlic Herb Pretzels
Ingredients
1/2 cup water
1 cup milk
1 tablespoon honey
1 cup white whole wheat flour
3 cups unbleached all-purpose flour
1 1/4 teaspoon salt
1 tablespoon yeast
1/2 teaspoon garlic powder
1/4 teaspoon dried oregano
1/4 teaspoon dried basil
1/4 teaspoon dried parsley
8 cups water
1/4 cup baking soda
coarse salt, poppy seeds, and sesame seeds for sprinkling
Instructions
In the pan of a bread machine, assemble the dough ingredients in the order recommended by the manufacturer. Set the machine on the dough setting.
If you don't have a bread machine, you can still make these! Just follow standard procedure for traditional bread dough. Warm the milk and water, add the yeast and honey and allow the yeast to proof for five minutes. Stir in the other ingredients until a sticky dough forms. Knead on a lightly floured surface until smooth and elastic. Place in a greased bowl, cover, and allow to rise until doubled in bulk.
Remove the dough to a lightly floured surface. Divide the dough into 12 equal portions.
Preheat the oven to 450°. Line two large cookie sheets with parchment paper.
Bring the 8 cups of water to a boil in a large kettle on the stove.
Roll each dough portion into a long snake, about 18 inches long. Shape the snake into a horseshoe. Twist the sides of the horseshoe, about halfway up, around each other twice. Flip the ends over onto the U of the horseshoe. Press to seal. Continue until all the pretzels are shaped.
Add the baking soda to the pot of water and continue to boil. Drop the formed pretzels, one at a time into the soda bath. Boil for about 30 seconds and remove to the prepared parchment. Sprinkle with coarse salt or seeds, if desired.
Once all the pretzels have been "bathed," bake them for 9 to 10 minutes or until golden.
Preparation time: 2 hour(s)
Cooking time: 10 minute(s)
Number of servings (yield): 12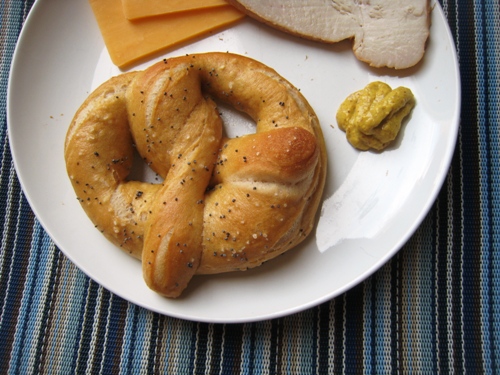 Not only are these pretzels fun for snacking or adding as a side dish to dinner, I made them the bread of our lunch this week. Served with cheese, turkey, and spicy brown mustard, it made a fabulous open-faced sandwich/snacky lunch.
Don't forget to try the original Whole Wheat Soft Pretzels and Enjoying Pretzels Lots of Ways with all the different dips and toppings.
DIY on a Dime
This is part of the DIY on a Dime: Easter. For more easy and frugal ideas for celebrating the holiday, check out the list.