Got computer issues? Consider calling the Geek Squad.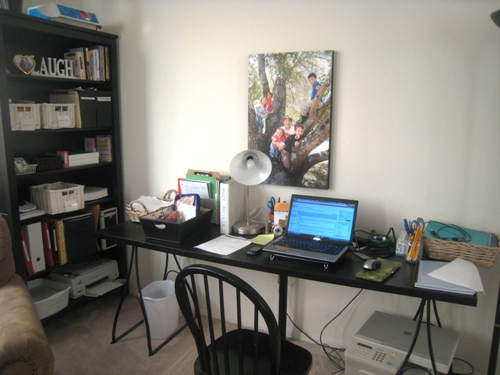 This is where I write, usually. We're blessed to have an extra bedroom that serves as my office. Sometimes it's clean. Usually it's not.
I have a laptop that allows me to work wherever I want, but sometimes you need to be able to lock the door and let the kids ask their papa to solve their problem instead of you. Just saying.
My computer, aka Mama's Computer, is close to three years old. In 2010 it was a pretty sleek machine with its i3 processor and Windows 7. Over the years it has helped me write four or five books. It has done me great service over the years. It needs to serve me well in the coming 45 days because, yes, I have cookbook due on May 1st! Whoo hoo!
Unfortunately, Mama's Computer has not been cooperating very well. Slow, sluggish, prone to crashes and scary sounds, it wasn't nearly performing the way I knew it could or should.
In fact, one night I had two posts to write. Both were written; I just needed to copy and paste and plug in the photos. The first one took me close to an hour to do those operations. Fed up, I moved to the other room to The School Computer. Lo and behold, the second post took about five minutes.
Ahem, something's amiss in Denmark.
I had been contacted by The Motherhood and Geek Squad to give the geeks a shot at helping me. The timing couldn't have been better. I can't write a cookbook with a temperamental computer. Ugh.
So on date night last week hubs and I took Mama's Computer to Best Buy where the Geek Squad is headquartered. I thought they were going to fix it right then and there. Oops. No. I had to leave it behind for a few days. I didn't know that when I left the house, so I hadn't backed up anything or mentally prepared myself.
Honestly, it was like leaving one of my children with strangers. Okay, not so bad, but still enough to make me a little nervous.
I came home and changed all my passwords from The School Computer. Yes, I'm a paranoid freak like that. I called every day until I got it back. We left it on Wednesday night. On Friday night I raced against the clock and through the rainy streets to pick it up before they closed.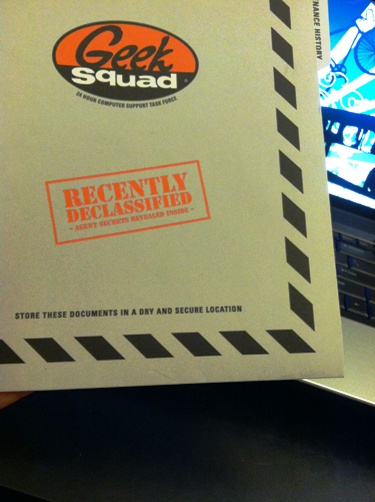 It was as good as new. Yay!
It turns out that the machine was very dirty and dusty, but it also was infected with several viruses. Here's what the official paperwork says:
Unit passed hardware diagnostics. Virus/spyware traces removed. Windows and other updates installed. System optimization completed. Checked and tested unit. No issues or errors detected. Speed is good.
Hallelujah. I am thrilled to say the least. My computer moves at almost lightening speed right now. I think I can write a cookbook now.
Since I received a one-year Geek Squad online Tech Support subscription, I can now call them anytime, take in my machine anytime, and duplicate this call to arms on up to three devices. Hello! I am thrilled!
The techs who worked on my machine were very courteous and didn't make me feel bad for being overprotective. I appreciated that. Now, we're taking in Papa's Computer, which is even older, to get cleaned up and back in shape.
Previously, we had been considering getting new computers, but now we're not so sure we need to.
How do YOU deal with computer issues?
Dis­clo­sure: This post is part of a spon­sored cam­paign for Geek Squad and The Moth­er­hood. All opin­ions are my own.