Today's giveaway is brought to you by Genesis Today, a company founded by a nutrionist and which offers puddings, juices, and smoothies that feature superfruits, like kiwi, cacao, acai, goji, and resveratrol. I'm sure you've heard a lot about superfruits, the fruits that are
packed with nutrients, including vitamins, minerals, essential fats, protein, and especially antioxidants. What's so great about antioxidants, you ask? They combat free radicals, which contribute to many disease processes in the body. In short, they're like Superman, fighting the bad guys before things get out of control.
I am not a doctor or a nutritionist, so I cannot vouch for the validity of those statements, but it's not the first time I've heard them. From my reading and listening about healthier eating, I'm thinking they're a good thing, especially if they taste good and are available at a fair price.
That's why I'm here. To talk about price and taste. 😉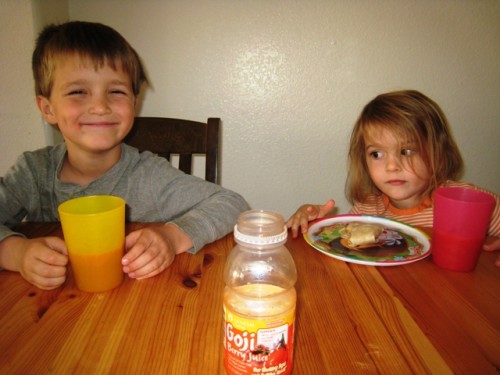 Our family recently had a chance to sample some of the Genesis Today products, including the three fruit juices (Goji Berry, Acai Berry, and Resveratrol) as well as their two varieties of chocolate pudding. I am pleased to report that kids and adults liked the range of products. So, much so that when our supply was depleted, I went out and bought some more, using the coupons currently available on Coupons.com (Scroll through to find $1 off juice and $0.50 off pudding coupons. There is also a huge range of printable coupons available on the Genesis Today site.)
There was some fists punching the air when FishBoy9 saw that I bought more Resveratrol.
The juice is not a "bargain juice." My Walmart sells it for $6.97 for a large bottle. (You are looking at a small bottle pictured with my kids.)
Pretty pricey if you're going to drink it by the glass like you would water. But, if you look at it as a supplement like you would vitamins, it's probably not over the top. In fact, if you were to use the juice in smoothies, adding your own fresh fruit and yogurt, I think you've got a fairly economical vitamin boost. Especially if you use the coupons.
Plus, it tastes good.
Win a Prize Package from Genesis Today!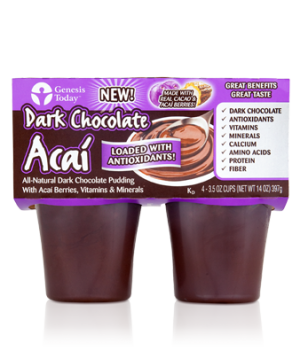 This week, in honor of LifeasMOM's blogiversary three LifeasMOM readers will win the following prize package from Genesis Today:
2 free juice coupons (large bottle)
1 free pudding coupon
1 free Veggie Blast – shipped to your home
1 free Kiwi Smoothie – shipped to your home
Simply leave a comment on this post, telling us your favorite kind of smoothie.
Giveaway will be open until Sunday, May 16th 8 pm PST. Winners will be chosen at random and notified by email. Those who don't respond within 48 hours of their notification email will forfeit their prize.
Disclosure:  Genesis Today provided me with several juices and puddings to review. I was not compensated in any way for reviewing this product or offering this giveaway, nor was I required to do so. My opinions are my own. For more information, please see my disclosure policy.