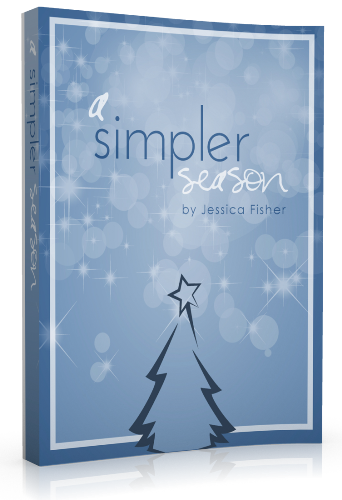 Christmas is about 76 days away. Thanksgiving? A mere 42 sleeps. Are you ready?
I put together what I consider a great resource to help you get ready for the holiday season. A Simpler Season includes everything you need to be more organized and relaxed come Thanksgiving, Christmas, and New Years.
And today, I'm offering an opportunity to get it for FREE.
Like I said yesterday, it's been so fun to see the tweets, emails, photos, and status updates of folks who have my COOKBOOK in their sweet little hands.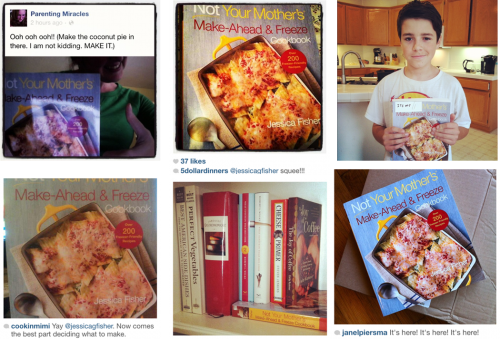 That's my boy in the upper right corner. He tacked a sign that says, "It's MY" over the "Not Your" in the book title. It is, after all, his mother's make-ahead and freeze cookbook. LOL
Share the Love
Since I love to see these pictures of Not Your Mother's Make-Ahead and Freeze Cookbook, I thought I'd add an extra incentive for folks to "share the love." I'll be giving away 100 free copies of my holiday ebook to those who tweet, facebook, or instagram about my new cookbook.
Here's what you need to do to snag one.
1. Do one of the following:
Share an instagram photo of my COOKBOOK — either on the bookstore or library shelf or at home — use the hashtag #nymfreezer
Tweet about my COOKBOOK including a link to purchase it. Be sure to include the #nymfreezer hashtag.
Tell your facebook peeps about  my COOKBOOK. Include your photo if you can. Make sure you make it public so I can see it.
Since this is a limited offer, I will be checking that you really did tweet, facebook, or instagram it. Sooooooooo, if you didn't, don't expect a book. #justsaying.
2. Fill out this form
3. Be patient.
It's a one-woman show around here most days. As soon as I get the chance, I will email you your digital copy of A Simpler Season. If there are more than 100 folks participating, I'll be sending $5 coupon codes good for the Life as MOM estore to those over 100.
Thank you for sharing NYMFreezer!