Get a Good Habit Going: Ask for Help
We are a participant in the Amazon Services LLC Associates Program, an affiliate advertising program designed to provide a means for us to earn fees by linking to Amazon.com and affiliated sites. We participate in other affiliate programs as well. For more details, please see our disclosure policy.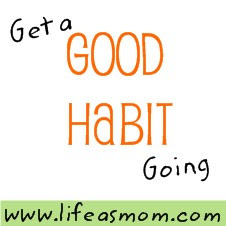 Today starts the third week of the Get a Good Habit Going Challenge. You're invited to share your progress on how you're improving on one new and good habit this month.
(It's never too late to join in. Just catch up on reading week one and week two.)
I've been working on getting routines going at our house. I've got this "Wanna Be Superwoman Schedule" all written out that if the Lord blessed it and the planets aligned and I actually stuck to it, I might fit everything into my day that I want to fit.
One area where I am seeing progress is going to bed earlier so that waking early is not as painful. There are so many pieces to the puzzle of my day, I really want to fit in as many pieces as I can. Since FishPapa leaves for work by 6:30, I'm setting my clock by his. He's an early bird in terms of bedtime, so I've been trying to shut down when he does. Not only does this get me more hours of shut-eye, it also helps us have a chance to talk and communicate better. Remember how the Bradys or the Cleavers or the Huxtables would talk about the day while they were getting ready to turn in? We're becoming one of those cool, happy, sitcom families! How goofy, yet good! Plus, in a way, my husband is helping me develop better habits.
So, an early bedtime is certainly helping my routines. I've mapped out what needs to go into each school day and starting to limit my computer time because the computer, though a huge blessing to me, can also be a serious curse. There's just no limit to the Wonderful World Wide Web! But, if I put in my school hours and laundry hours and love-on-my-kids hours, I know I'll enjoy my online time so much more.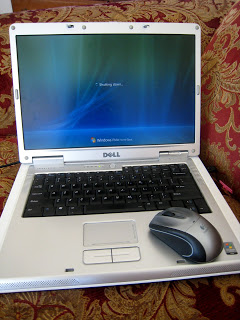 30 minutes is my little allowance each morning to check emails, read some blogs, check in with the world. (I'm still working on a good time for computer work in the afternoons/evenings.) This is hard. Just two minutes on twitter or Facebook can lead to twenty. So, one of the things that I'm doing to combat my temptation to linger is to A) have a time when I have to shut off and B) let my friends in on my plans. My kids are, thank the Lord, too polite to tell their Mama to get off the computer. But, my online friends feel the freedom.
So if you see me out and about on the web between the hours of 8 and 1 on a school day, you have my permission to tell me to get lost.
Get Help to Start a Good Habit
Whatever new and good habit you're working on this month, you can probably find ways that family and friends can help you and encourage you toward your goal.
Trying to lose weight? Find a confident who can ask about your weigh-ins, eat healthy food with you, or go exercising with.
Want to get your house organized? Invite over a cleaning buddy. I used to do this with friends. We'd take turns and could socialize while we ditched and pitched. We had fun and had progress to show for our time spent.
Want to do better meal planning? Start a blog (if you haven't already) and participate in Menu Planning Monday.
Working to pay down debt? Draw a thermometer poster and color it red for each bit of progress you make. While this may not be tangible "help," seeing your progress can be a great encouragement.
There's no limit to the ways that others can help you. But, you do have to be willing to listen to them when you start to wander from your goal. This can be hard. I guess it comes down to how bad do you want to get this good habit going? No one can make you do it.
You gotta want it.
Have you found success in getting help to achieve your goals? What works for you? How are you doing in "getting a good habit" going?