Get a Good Habit Going Challenge: Baby Steps Toward the Goal
We are a participant in the Amazon Services LLC Associates Program, an affiliate advertising program designed to provide a means for us to earn fees by linking to Amazon.com and affiliated sites. We participate in other affiliate programs as well. For more details, please see our disclosure policy.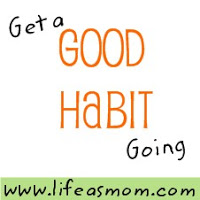 This is the second week of the "Get a Good Habit Going" Challenge. We're working together to offer support and encouragement to change some bad habits and start some new and good practices.
Why not wait for January when everyone gets a fresh start?
Because life is happening today! Life is passing by. And it's too precious to waste. So, let's redeem the time and make the most of these days with our families and friends. Good habits generally do help us enjoy those more and more.
Last week I was blown away by all the creative ideas and good intentions that y'all expressed. Readers' ideas included but are not limited to:
meal planning
cleaning
not spending money/paying down debt
getting a household routine going
spending intentional time with God
making soup to fight off the cooties
limiting computer time
improving eating habits
joining the 30Day Giving Challenge
finishing up unfinished projects
using the crockpot more
dejunking
These are all things that I would like to improve. I could drive myself absolutely bonkers if I tried to tackle them all at one time. If I came anywhere near success, my family would probably hate me when I was done. Something would probably give along the way and that "something" would most likely be my cheerful disposition.
That's a problem, isn't it?
We want to improve ourselves and our homes for the benefit of our families, but we don't want to do it at the expense of ourselves, homes, or families. So, what do we do?
Take baby steps.
Choose 1 (ONE) habit to change this month.
Break down your good habit into do-able pieces. Figure out what stages you'd need to go through in order to reach your goal or new habit. And then determine how to approach them.
Make a list and systematically work at those little steps.
Go back and tweak what doesn't work.
For instance, I'm working on daily and weekly routines for our household. Part of establishing a working routine for the day involves establishing the parameters of the day. When does "the day" begin and end? What are the things that need to fit into the day? How can I arrange the pieces of that puzzle so that everything fits? Will there be pieces leftover that don't fit the puzzle? Once I have a workable model, I can test it. If it doesn't work, I can go back and make more changes until I find the routine that works best for my family at this season of life.
So, did I get a SuperWoman schedule put together last week and implement it perfectly each day? Far from it. It was tempting to get discouraged. And I must confess, there were moments when I felt like a huge FAIL.
But, I made some baby steps.
One small step to this establishing routine thing has been for me to go to bed at a decent hour (I'm shooting for 9 pm) so that I can get up early enough to have a head start on the day before the patter of little feet starts down the stairs. While I didn't get to bed by 9 every night this past week, it did happen a few times. And I think that there were only 1 or 2 nights where I was up past 10. This is huge progress for someone who's been up long past midnight for weeks yet awaking by 6:30 most mornings – and nursing a baby in the middle of it. Those extra hours of sleep are helping, slowly, but surely. And if that's the only good habit I get going this month, that will be good for me and for our family.
But, you know, I'm dreaming bigger than that. I want to figure out how to make the whole day go more smoothly. This week, I'm continuing my bedtime/wake-up times and going to work in a few more baby steps, like
find a good pocket of time for computer work each day that doesn't interrupt school or detract from family time
determine a good day of the week to go grocery shopping
I'll report back next Monday. Can't wait to see how it goes for each of you. Don't feel dejected if this week doesn't find you exactly where you want to be. If you've made some baby steps, then that is good.
Today is a new day.
Thank the Lord, it is. So, think back to your good habit that you want to cultivate this month and give us a progress report.
What are some baby steps you took last week that got you closer to your goal. What can you do this week toward getting your good habit going? Tell us in the comments so we can encourage you.