Get a Good Habit Going Challenge: Don't Compare to Others
We are a participant in the Amazon Services LLC Associates Program, an affiliate advertising program designed to provide a means for us to earn fees by linking to Amazon.com and affiliated sites. We participate in other affiliate programs as well. For more details, please see our disclosure policy.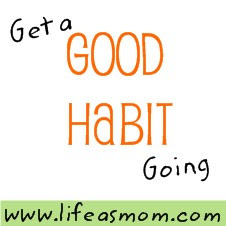 This month we're working on good and new habits. Before things get really crazy in December, November is a fantastic time to get a little order and happiness going. Next month has a chance at smooth moving, if Mom feels a little more on the ball.
I've been working on routines around here. Now, I have a choice. I can look at other women and how they do it soooooooooooo much better than I. Or I can look at me, look at where I want to be, and make efforts to get there, Lord willing.
You see, that temptation to compare ourselves to other women is so strong. I'm not sure why it is, but it is pervasive, is it not?
The funny thing is that we compare what we see on our insides to what we see on their outsides. Those are not the same things. You don't know what she struggles with. You don't know where she's weak.
And even if she is "better" than you at something, that doesn't make you "less." It makes you different. And that is a good thing. A very good thing. If you're going to compare, compare yourself to you last week. last month. last year.
While I'm nowhere near where my ideal would be, I am making progress, baby step by baby step. And instead of comparing to my friends, I've asked for help. One friend and I check in with one another at least once a week to help each other tow the line.
It started with going to bed earlier. Like three hours earlier than I normally was. For some reason I'd gotten into the very bad habit of staying up to 12 or 1 each night, long past the kids and my husband were already in bed. Yet, I was still waking at least once in the night with FishBaby and trying to get up early each morning. Curbing my bedtime has been really helpful. In fact this weekend, the guys were gone for an overnighter so I felt the freedom to stay up late. Boy! Did I pay for it the next day. After having turned in at 9 or 10 each night for a few weeks, I really noticed that it made a difference.
Another area that I've needed to reign under control is the computer, both a blessing and a curse. Despite my best efforts at limiting myself to 30 minutes in the morning, I had to admit to myself that I just can't turn it on in the morning. Thirty minutes become three hours. And so, until I have a little better self-control, I need to stick to my day job.
This week's plan?
go to bed early
stay offline until after school work is complete
AND…. get the family back on track with our morning high five. We've been sick and so kids and routines have fallen by the wayside.
How are you making progress on your new and good habits? I can't wait to hear!
(Don't forget! Next week, post about your experience and link up with Mr. Linky.)