Get a Good Habit Going Challenge: How Did You Do?
We are a participant in the Amazon Services LLC Associates Program, an affiliate advertising program designed to provide a means for us to earn fees by linking to Amazon.com and affiliated sites. We participate in other affiliate programs as well. For more details, please see our disclosure policy.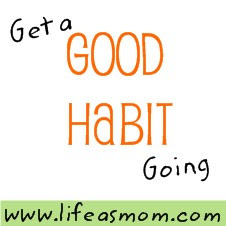 Well, how did you do? About a month ago I challenged you and me to get a good habit going. And did we have the best of intentions, or what?
Honestly, I thought I was going to transform my life, get my household running like a well-oiled machine.
While I didn't quite achieve that lofty goal, it was good to dream a big dream. And I did make some progress. One of the biggest successes was simply learning that more sleep is good for me. I'd been running on months of late nights and early mornings with night wakings in between. Making a point of going to bed early has definitely benefited me and my whole family. I certainly feel the difference a good night's sleep makes on the mornings after a LATE night. Oh yes, indeed.
Another area where I saw success was in how I managed my computer time. After MUCH trial and error, I found that it's best if I don't go online in the morning. I am too easily waylaid by all "the pretty sparklies" here on the world wide web. But, that said, it was helpful to have a time goal to reach for at the end of our school day. By telling the boys that I was going to do computer work at 2:30, it helped structure our days better. We were all a little more efficient and they knew that their independent work could be done after they'd done all the activities they needed me for. We're still working out the kinks, but I feel like we made some progress in getting our daily schedule to run a little more smoothly.
I still have a ways to go before I will have "arrived" in my home management. But, every little baby step helps.
How did you do? Share with us the progress you made or the lessons you learned over this past month. Either link your post below or simply tell us in the comments section.