Get a Good Habit Going! Challenge
We are a participant in the Amazon Services LLC Associates Program, an affiliate advertising program designed to provide a means for us to earn fees by linking to Amazon.com and affiliated sites. We participate in other affiliate programs as well. For more details, please see our disclosure policy.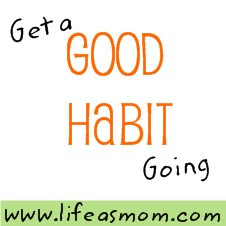 Ever find yourself a day late and a dollar short? Ever wake up one morning to realize that bad habits have infiltrated the comfort of your home and life? Ever find that life is passing you by because you're not on top of things like you wish you were?
Yeah, me, too.
This past 14 months since FishBaby was born have been some of the best, but some of the craziest months of my life. I seem to recollect that a year and a half ago, my life and my household acted like a well-oiled machine. I knew where things were; I had a regular schedule and routine; life seemed peaceful.
The wheels have since fallen off my machine!
But, then again, if I think back to the months and years that followed the birth of each of my children, I realize that it has always been kind of like that. It takes me awhile to get back up to speed.
This past week, though, I decided things needed to change. My bedroom had looked like this for far too long.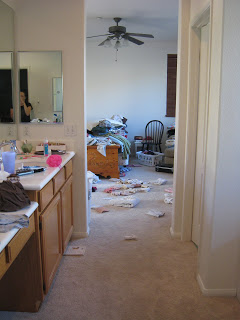 Just keeping it real, folks.
Friday morning I got to work and washed and folded two tons of laundry and have vowed not to get sucked under again. FishPapa and I also had some good conversations this weekend about opportunities and priorities for our family and what we should spend our time on.
So, for my benefit and yours, I'm starting a new feature here called "Get a Good Habit Going." You know that life is going to get a little crazy come Christmas time. And I'm thinking I'd like to meet it a little better prepared than I am right now. So, I want to spend the month of November cultivating a new and good habit.
Yes, I could wait until January 1. But, that's two months away. I'd like to enjoy a little less chaos between now and then. There's no time like the present, right?
Get a Good Habit Going
So, I invite you to commit agree consider developing a new and good habit this month. It doesn't have to be something crazy (or painful) like marathon running or anything. Just a little something that will improve your life and the lives of those you love.
Here are some ideas to get you thinking:
pray everyday for your husband, kids, neighbors, country, etc
learn to cook something new from scratch and practice once a week
begin an exercise regime
drink more water
cook or bake some recipes ahead of time and stash them in the freezer (more on this this week)
My New and Good Habit for November
As for me, I'm going to be working on fine tuning our daily and weekly routines. I used to have good ones, but I'm not sure where I lost them. They're probably in a moving box somewhere, along with the girls' extra bed sheets that I also haven't seen in a year. I'm going to try to find them again.
The routines as well as the bedsheets.
So, I'm working on a daily schedule. Basically, I need all the help I can get. I'm not a schedule person by nature, so this rubs me the wrong way a little. Yet, there is so much to do in my day and often the important stuff gets left undone because I'm not paying attention. My husband says, "You can't turn an aircraft carrier on a dime." And, well, that's a little bit like our life. I need to plan better and redeem the time.
In addition to getting a daily schedule going, I also want to focus on working hard during the week so that weekends can be family time instead of catch up. I'm not sure how this will pan out, but FishPapa and I did a little brainstorming today about our household's infrastructure (meals, clothes, and other regular household tasks) and what I could do to make my "life as mom" a little happier and a little easier.
So this week, I'm going to start implementing some new sub-habits. (How do you like that for complicated?)
completing two loads of laundry per day M-F
planning and shopping for more than a week of meals at a time (see this month's meal plan)
make meals ahead of time so that I can save time in the evenings (Baking/Freezer Cooking Day is this Tuesday and Wednesday. Stay tuned!)
Each week this month, I'll post about my progress; I hope you'll share yours. At the end of November, I'll put up a Mr. Linky so that everyone can report in about their new and good habit.
But for now, tell us in the comments the one thing you'd like to do this month for the better.
It can be little. That's okay. But, leave a cute, little comment because it's a good way to help you commit to actually doing it! I know, 'cause I just did that.