Get more sleep and reap great benefits.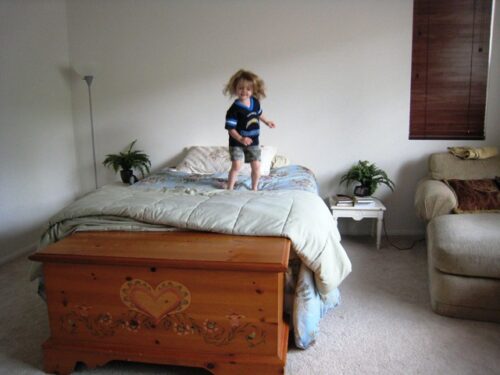 I mentioned last week my efforts to end burning the candle at both ends. I want to live a long life — and I'd like to do with my health intact.
Relaxing has been one step in the right direction. So has getting more sleep. For years I was able to function on less than 4 hours' sleep. Yes, once you factored in the night waking of babies, etc, that's how the minutes added up. I honestly have no idea how I survived.
Especially when I would stay up far too late, long after the family — and the nursing baby — were asleep.
Finally, under my hubby's encouragement, I went from a 1 or 2 am bedtime to lights out at 10. Since then my babies have started to sleep through the night (mostly). While I'm now getting almost twice the sleep I once did, I still crave more.
I think I'm making up for lost time!
An earlier bedtime has provided a number of things:
relaxing time with my husband
an intentional "turn off" time for electronic devices
more alertness throughout the day
These benefits add more to our whole family's quality of life.
Getting more sleep is a great way to stop and smell the roses.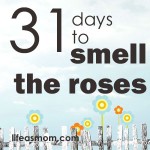 The days are long, but the years are short. I don't want to miss them! For more short and sweet ideas on how to stop and smell the roses, to enjoy the little things in life, check out my 31 Days to Smell the Roses series.
Don't miss a post in this series. Subscribe to 31 Days to Smell the Roses by RSS or email.