Get Organized: Personal Space
As an Amazon Associate I earn from qualifying purchases. For more details, please see our disclosure policy.
This is the year to get organized at home. Last month we started by cleaning and reorganizing our personal space. Here's how I did it at my house.
About a month ago, I invited you to join me in the game called Zone Defense. It's a game plan for organizing your home, one "zone" at a time, in order to maximize your home for the way you live.
During February, the assignment was to get organized in your closet, bedroom, bathroom, and other personal spaces, like your car and purse. Today is the replay! I'm going to share what I accomplished in my personal spaces.
(Be sure to scroll to the bottom for March's assignment, too.)
Get Organized: Personal Space
I didn't do every personal space I've got, but I did the two most important to me in this season of life. As I'm struggling with sleep and some thyroid health issues, I tend to spend more time in my room these days. I also struggle with wanting to look at least better than I feel. Haha!
So for me, it made the most sense to get my closet and bathroom in order. Here's what my closet looked like BEFORE: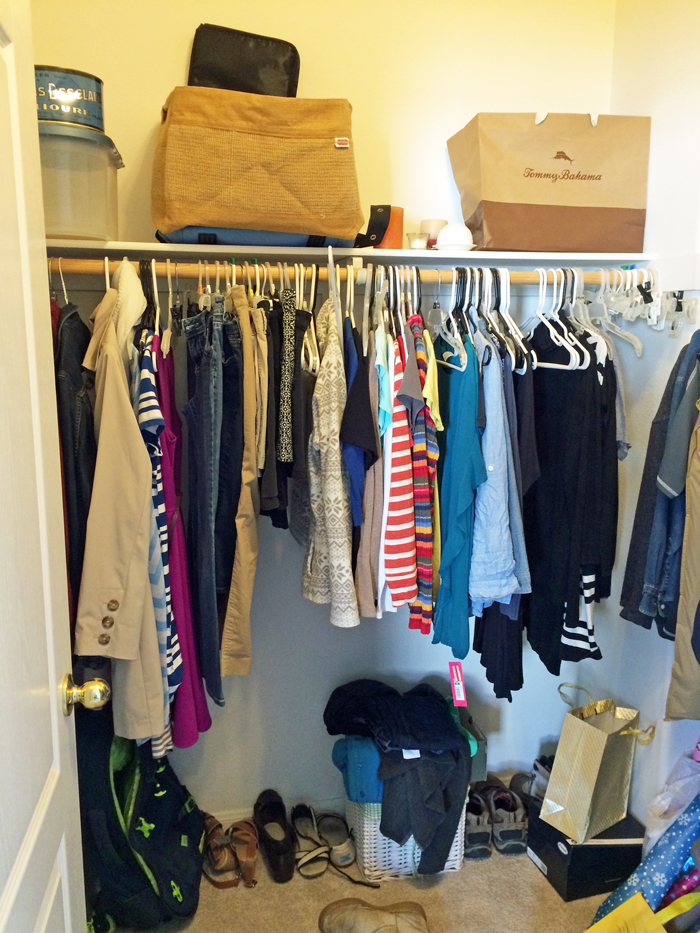 Lots of junk, lots of wrappings, lost of chaos.
Here's what the bathroom looked like before: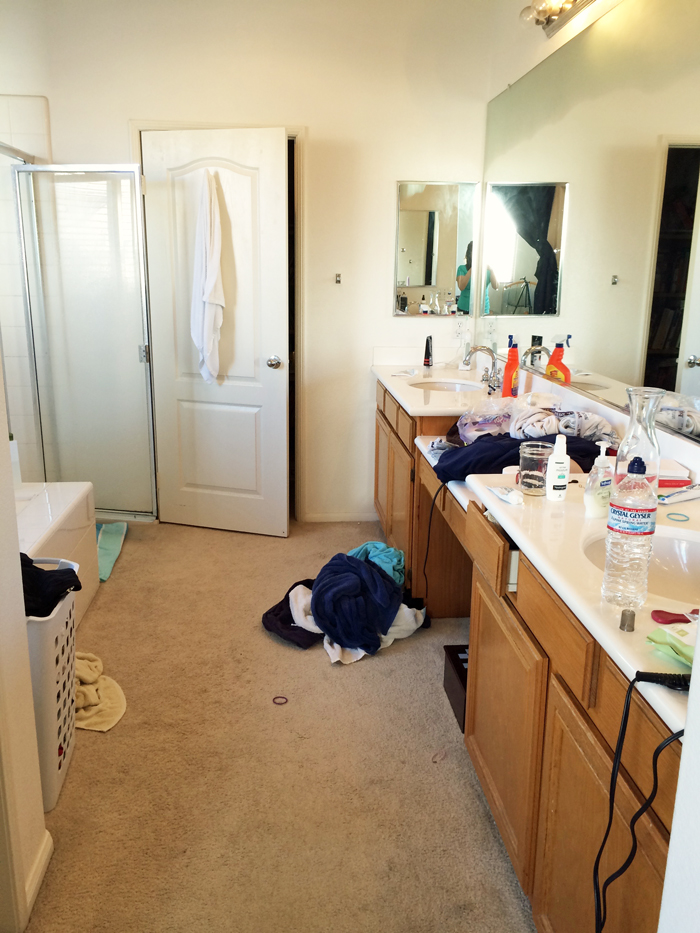 Please note: the clean sink and counter belong to my husband. The clutter and stuff? That be mine.
What I did to get organized in my closet and bathroom:
I junked any clothing I didn't love, didn't fit, or that was stain or torn.
I organized my clothing in ROYGBIV order.
I folded my exercise clothes, jammies, and undergarments the Konmari way.
I emptied the medicine cabinet and discarded any outdated stuff or stuff I didn't like.
I rearranged the bathroom cabinets and drawers to hold just the stuff I use on a regular basis.
BONUS: the owners of the house we rent have wanted to renovate the bathroom for over a year. The work was done in February. I was without a bathroom for about a week, but the bathroom is almost as good as new!
Here's what things look like now: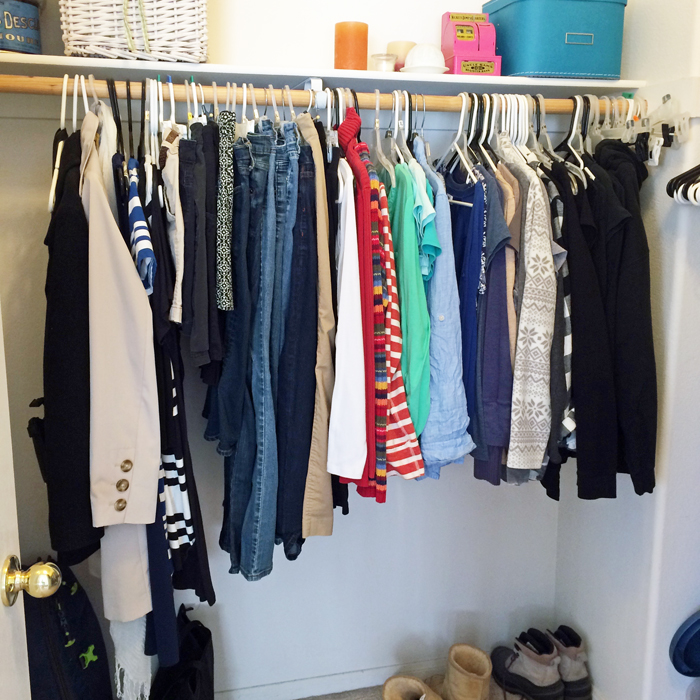 Yes, this is really all my clothes — except for my jammies, undergarments, and exercise clothes. I have neither a big budget for clothes nor the patience to do a lot of shopping. I usually buy something when I'm desperate and then, it's rarely ideal.
If anyone would like to be my personal shopper, I'll take it!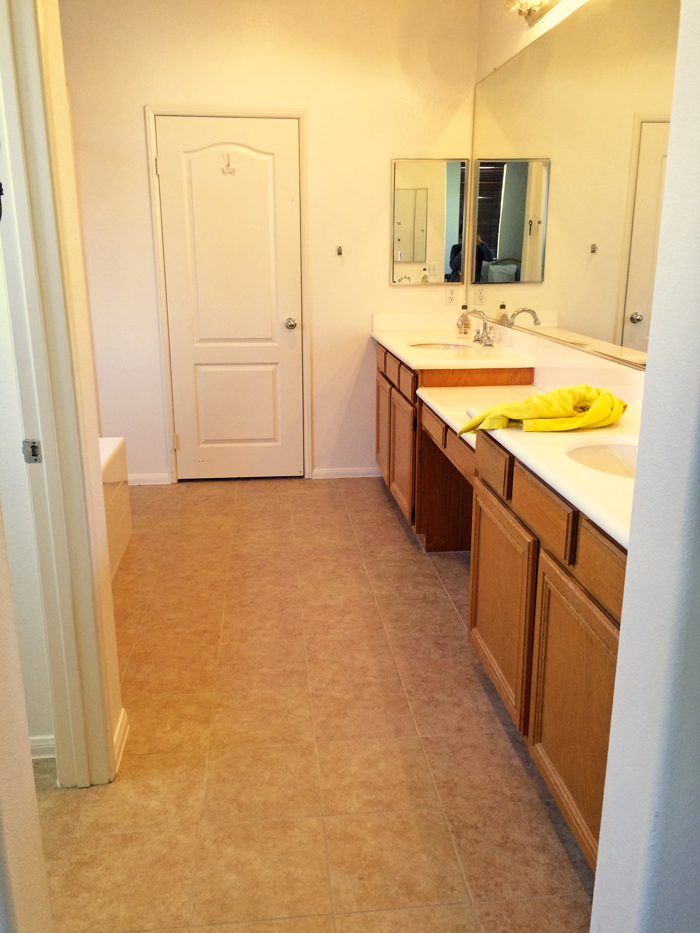 It's a little hard to get used to tile floors — they're freezing cold! — but it does look so much nicer than the ratty old carpet. They also replaced the shower surround so it really is almost like a brand new bathroom.
Here is the periscope that I did after my wardrobe was dejunked. It includes a peek into the chest of drawers and how I folded clothes to be easily to see. The replay was glitchy for me, but hopefully you'll be able to see it.
(You can follow me on periscope @jessicagfisher if you'd like to watch my daily Periscope broadcasts at 7 am PST.)
Let's Get Organized!
Zone Defense is a year-long "game plan to organize your home" that I designed four years ago. Zone Defense is divided into "zones". We'll be working from area to area, dejunking, reorganizing, and otherwise bring order to chaos.
Here's the breakdown for the year:

February: Personal Space

March: The Kitchen

April: Clothes, Linens, and Laundry

May: Living Spaces, Entertainment

June: Transportation and Travel

July: Kids Stuff

August: Bathrooms

September: Emergency Preparedness

October: Outdoors

November: Office and Paper

December: Deep Storage
If you're someone who likes to jump ahead or do things out of order, no worries! My ebook, Zone Defense, will be ready April 1st. So hang on!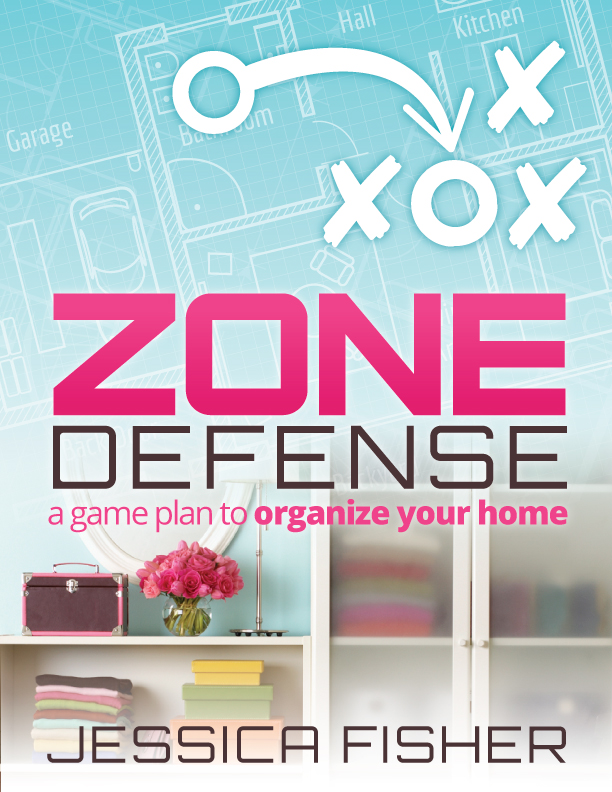 Ready to Get Organized with Zone Defense?
Here's what you can do now:
Plus, you'll need to follow this month's assignments because we are going to the KITCHEN!
Get organized in the kitchen!
Your kitchen is meant to be a place of creativity and nourishment. If there are things or situations going on in your kitchen that prevent you from being creative and providing delicious food, then let's change that this month!
For me, I've got a lot of work ahead of me. Those of you who've been following me on Periscope know the termite saga. After months of waiting, we're finally going to have the house tented for termites this month. That means that every food item will need to be bagged up, as well as cosmetics and toiletries.
What better time than now to do zone defense on my kitchen, eh?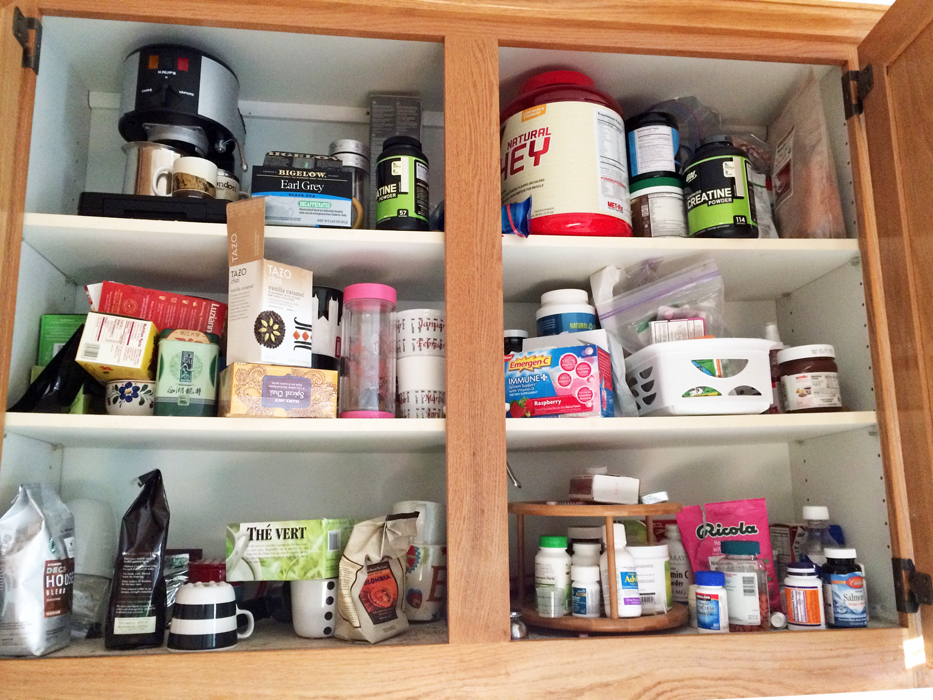 How can you improve your life by organizing and improving your kitchen space?
Ask yourself these critical questions for dejunking:
Do you use it?
Do you like it?
Could someone else enjoy it instead of it taking up space in our home?
Here's what we're gonna do:
Empty every cupboard or drawer completely.
Vacuum or wipe down surfaces.
Discard trash, broken things, and items that you don't use anymore.
Thin the herd of items you have a lot of. Plastic food containers, I'm looking at you.
Place things near where you will use them.
Enjoy a clean and organized kitchen!
I'll be scoping the before of my kitchen as well as the after — and maybe the during this month on Periscope. You can follow me @jessicagfisher to catch it live. 😉
So, how did you do in your personal space…..
Did you get organized?!