Get Out: Build a Sand Castle or a Snow Man or a House of Sticks
We are a participant in the Amazon Services LLC Associates Program, an affiliate advertising program designed to provide a means for us to earn fees by linking to Amazon.com and affiliated sites. We participate in other affiliate programs as well. For more details, please see our disclosure policy.
Want to have a project when you step out of doors? Go build something with your kids.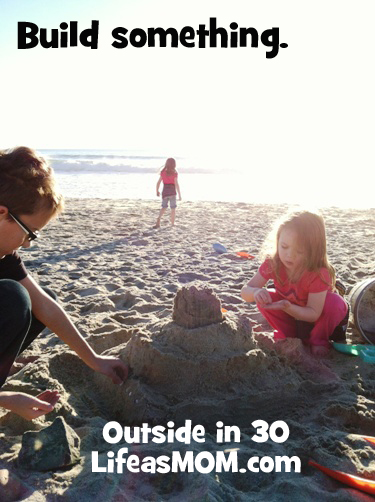 Some of us are not naturally comfortable in the great outdoors. I don't know why that is. I think some of it is just habit. Some of it may be thanks to a lack of experience.
When I was a child, I remember getting cozy on the couch with a good book, but I also remember playing for hours in the backyard with my sister and the neighbor kid Mark. Most often we were digging in the sandbox and building things.
Among other things, we were working on a flying car that ran off olive juice from the olive tree in our backyard. Yes, really. Unfortunately, we didn't have enough financial backing to get that baby off the ground.
Building is an absorbing, creativity-producing activity that anyone can get involved in. It's the perfect activity to get you and your peeps outside. 
For our family, we obviously lean on the beach for our building endeavors. We're a short two miles from the coast. I keep the buckets and shovels together, stored in a larger five-gallon bucket that Papa fills with water so the kids aren't constantly hauling itty bitty buckets from the surf.
And the kids love it when we build with them!
Don't have sand? No problem.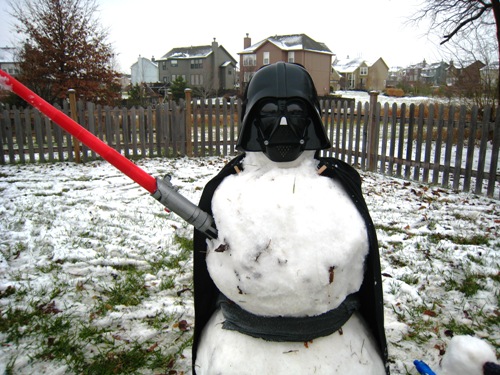 You can get all kinds of creative if you've still got snow on the ground. And I know some of you do!
(And you have my deepest, deepest condolences.)
No snow? No sand? I'll take a wild guess that you've got dirt, sticks, or mud. Those are prime building materials, my friend! You can build a fort, a dam, a little adobe village!
Today's challenge: Build something with your children — outside.
It doesn't have to be a replica of the Taj Mahal; just build something. Don't be afraid to get your hands a little dirty (or cold). You will be making an amazing memory and getting some fresh air at the same time. Be sure to take a picture when you're done.
Helpful Resources:
What's your favorite thing to build outside?
Outside in 30

Want to find other ways to get outside with your peeps? Eager to enjoy the great outdoors more than you do? Wondering how to expose your kids to more of nature? Click here for the Outside in 30 list of ideas.