Get Out: Draw with Sidewalk Chalk
We are a participant in the Amazon Services LLC Associates Program, an affiliate advertising program designed to provide a means for us to earn fees by linking to Amazon.com and affiliated sites. We participate in other affiliate programs as well. For more details, please see our disclosure policy.
Drawing chalk pictures is easy and fun, especially when you step outside your front door.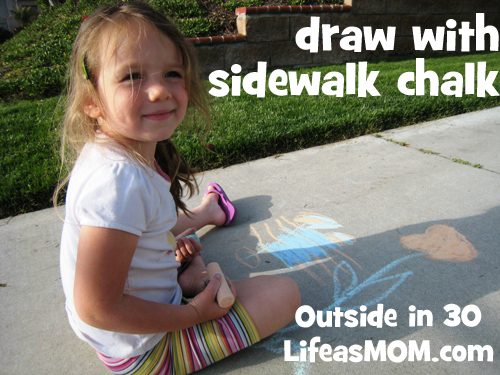 Ever since I first saw Mary Poppings at the age of 7, I've been fascinated with "chalk pavement pictures." Remember when they all jump into the pictures in that epic Disney film?
Drawing on the pavement with sidewalk chalk is easy. You don't need to be a great artist. Just doodle. Your kids will love it!
Neither is it expensive. You can buy a box of 12 pieces of chalk at Walmart for a buck. I know. I've bought two boxes so far this season. (You can also make your own sidewalk chalk if you're so inclined.)
My girls and younger boys have had a blast with the chalk over the last month. We've drawn spring-inspired pictures, hopscotch courts, messages, and all kinds of unique designs in color on the pavement.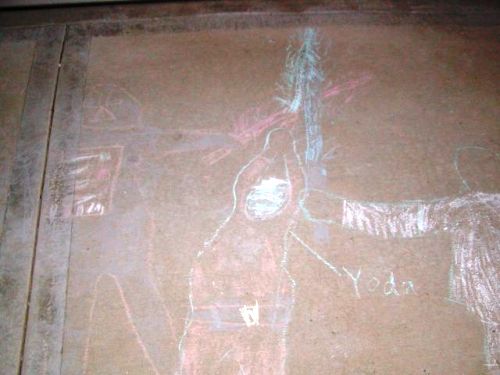 I have great memories of my older boys drawing an entire scene of Jedi warriors complete with light sabers. They took turns lying down on the ground in certain positions while a brother traced them.
This technique is great for drawing selfies, too. Trace your child or let them trace you and then color in some fun clothing and accessories.
Drawing a chalk message is a great way to welcome your child home from school. It's also a great way to get outside WITH your kids. It's low risk and fun, too.
Today's Challenge: Draw sidewalk chalk pictures with your kids.
Just be sure not to draw your pictures right in front of the front door. You'll be tracking in dust all over. Leave yourself a few feet to shake the dust off. Then let your kids have at it.
Helpful Resources:
Do you have any special drawings you've made on the pavement?
Outside in 30

Want to find other ways to get outside with your peeps? Eager to enjoy the great outdoors more than you do? Wondering how to expose your kids to more of nature? Click here for the Outside in 30 list of ideas.