Get Out: Eat Outside
We are a participant in the Amazon Services LLC Associates Program, an affiliate advertising program designed to provide a means for us to earn fees by linking to Amazon.com and affiliated sites. We participate in other affiliate programs as well. For more details, please see our disclosure policy.
Dining alfresco, eating outside, is an easy way to enjoy fresh air, sunshine, and the cool breeze. Kids also love it!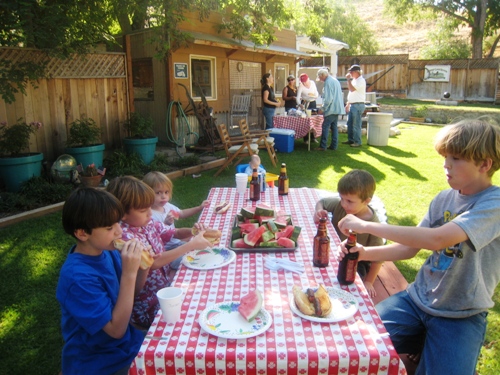 It's hard to stay inside when the weather is nice, especially if you live in a climate with vastly different seasons. You want to enjoy the great outdoors while you can!
That's what makes dining alfresco (eating outside) an ideal family activity. Whether it's a picnic at a park or beach, a backyard barbecue with friends, or simply setting the backyard picnic table for supper, eating out of doors can be a refreshing change of pace, especially when you've been cooped up inside for days or months at a time.
Ours is not a fancy backyard. And, no, that is not our backyard in the picture above. That is the home of a family friend who has an idyllic setting in her backyard. No, our backyard has a hill of ground cover, a retaining wall, a strip of grass, and a small patch of patio.
That patio is big enough, though for the hammock, the BBQ, and a picnic table. A couple summers ago we purchased a Rubbermaid picnic table at Costco. We haven't used it as much as I would like for lack of shade. Guess what's on the list this year?
I am hoping that eating outside will become a more regular practice at home.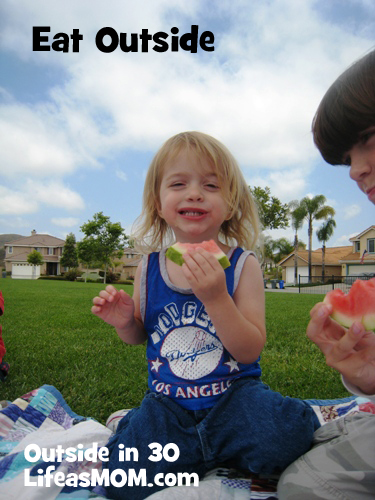 But, something as simple as a picnic at the park can be a fun thing for the kids. Or even a picnic in the front yard. We've done both. The kitchen stays cleaner, the meal seems quieter, and we all enjoy doing something different for a change.
I have the fondest memories of a childhood breakfast enjoyed at a local campground. We had friends who loved to camp. My parents didn't share that passion. But, we bundled up and joined them for hot cups of cocoa, grilled bacon, and eggs cooked over a campfire. You can do the same at your local park or national forest.
And yes, Virginia, you can even have a picnic in the snow. Check out Aimee's tutorial to see how.
When hubs and I go on date nights, we usually choose to eat outdoors as well. Last week we had just finished our meal when I spotted a veritable swarm of bees heading toward the patio. We headed inside to wait it out. Clearly, weather and insects can foil your picnic plans. But, it's still worth trying.
Today's Challenge: Enjoy a meal out of doors.
You might have to be creative depending on your particular situation. Know that it can be done!
Helpful resources:
Do you regularly dine alfresco?
Outside in 30

Want to find other ways to get outside with your peeps? Eager to enjoy the great outdoors more than you do? Wondering how to expose your kids to more of nature? Click here for the Outside in 30 list of ideas.