Get Out: Find a Petting Zoo
We are a participant in the Amazon Services LLC Associates Program, an affiliate advertising program designed to provide a means for us to earn fees by linking to Amazon.com and affiliated sites. We participate in other affiliate programs as well. For more details, please see our disclosure policy.
A petting zoo is a safe, fun place for kids to learn about animals up close. Plus, it gets you outside!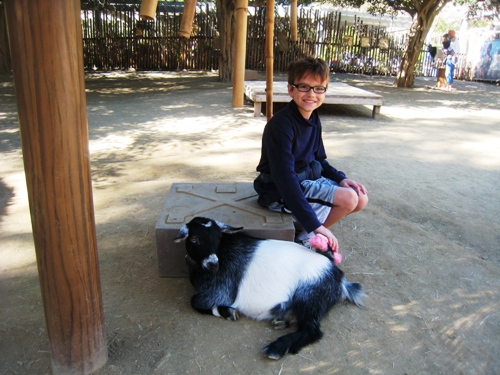 While there is a moment of sheer terror for a toddler in a petting zoo, most of my kids, big and little, have enjoyed the experience. In fact, the last time we got up close and personal with a bunch of goats, even the bigger ones enjoyed it. I would have thought they would be tired of it by now, but no.
They loved it.
When we lived in Kansas, the Deanna Rose Children's Farmstead was the ideal place, a complete petting zoo and reenactment of the pioneer era. It was free and tons of fun.
Nowadays we experience petting zoos at regular zoos, amusement parks, aquariums, and farm and agricultural sites.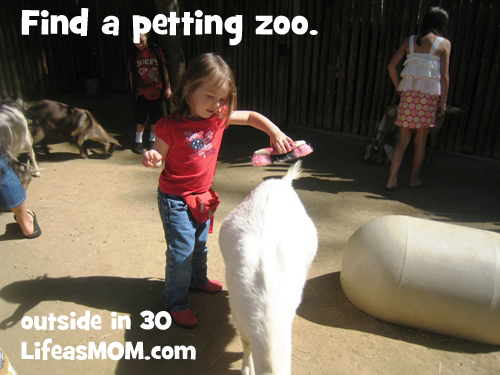 Today's Challenge: Visit a petting zoo.
You know your kids best. If your child is deathly afraid of animals, then use caution and good judgement on your outing. Go slow. Don't force it on them. If they just want to watch from outside the fence, be cool with that.
Also remember to have kids clean and sanitize their hands after touching the animals. There have been cases of illness due to touching the animals. While there are probably many "traveling zoos" operated by responsible folks, it may be better to visit a petting zoo sponsored and upkept by an accredited institution, like your city's zoo or parks and recreation department.
Helpful resource:
Do your kids like petting zoos?
Outside in 30

Want to find other ways to get outside with your peeps? Eager to enjoy the great outdoors more than you do? Wondering how to expose your kids to more of nature? Click here for the Outside in 30 list of ideas.