Get Out: Fly a Kite
We are a participant in the Amazon Services LLC Associates Program, an affiliate advertising program designed to provide a means for us to earn fees by linking to Amazon.com and affiliated sites. We participate in other affiliate programs as well. For more details, please see our disclosure policy.
Kite flying is a wonderful way to enjoy the breezes and sunshine.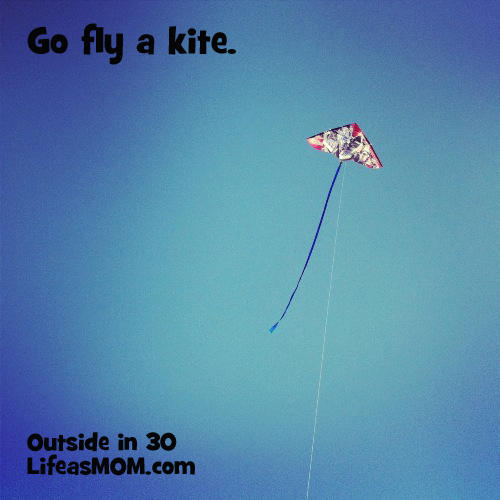 When I was a child, kites were made of paper and string. Grungy newspaper that tore and didn't really fly very well. Visions of Mary Poppins' children and their happy kite flying were dashed to the ground — along with my sad, homemade kite.
Thank goodness for the modern age and the dollar store kite that actually flies!
One of my first and most special memories with my husband is from our first Easter as a couple. After church and brunch with his dad, we took a bike ride all around Goleta and Isla Vista. We grabbed root beers at a gas station and a kite at the drugstore. Running across the field of his former elementary school, we flew a kite together.
We spent the whole day together outside in the sunshine and fresh air. I was smitten as well as sunburnt by the time the day was over.
So, we're partial to kites at our house.
I try to buy a bunch of the dollar variety from Walmart every spring to keep on hand. Even though wind is year-round, it seems kites for sale is seasonal. Since there's no way I'm going to try to make one, I like to have a bunch on hand.
The low budget kites I've purchased have proven to be extremely easy to fly. In fact, my girls (4 and 6) were able to get it up in the air at the park while my back was turned. Easy peasy.
We've found the trick to be flying your kite in a big open space, far from trees, houses, and power lines. You don't want to get the kite string tangled in trees or power lines. Houses nearby can block the wind. So, head to a local field or beach.
Today's challenge: Go fly a kite with your kids.
Honestly, this is not difficult. If my four year old can get a cheap Walmart kite in the air, so can you. Find a grassy field, make sure no storms are heading your way, and go fly a kite. Up to the highest height. And send it soaring….
Helpful resources:
Got a favorite kite flying story?
Outside in 30

Want to find other ways to get outside with your peeps? Eager to enjoy the great outdoors more than you do? Wondering how to expose your kids to more of nature? Click here for the Outside in 30 list of ideas.