Get Out: Go Berry Picking
We are a participant in the Amazon Services LLC Associates Program, an affiliate advertising program designed to provide a means for us to earn fees by linking to Amazon.com and affiliated sites. We participate in other affiliate programs as well. For more details, please see our disclosure policy.
Berry picking is a fun and tasty way to spend some time out of doors.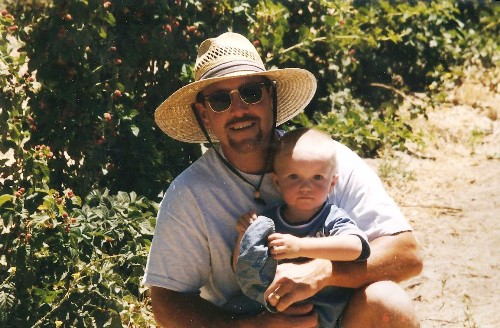 Years ago we took our littles berry picking for the first time. It was hot, sticky, and so much fun! I found that I couldn't resist picking more and more. I just couldn't quit picking. The kids couldn't quit eating.
We came home and made pies, jam, and all sorts of yummy desserts with our Paso Robles Olallieberries. Yum!
Berry picking seasons vary depending on where you live and what the weather has been like. So, you'll need to do some advance planning. It's all dependent on weather and the growing conditions.
According to Pick Your Own, the berry picking dates in California are as follows:
Strawberries Apr.10 – June 30
Blackberries June 1 – July 30
Blueberries May 15 – June 30
Boysenberries May 10 – July 5
Olallieberries June 1 to July 31
Raspberries July 1 – September 15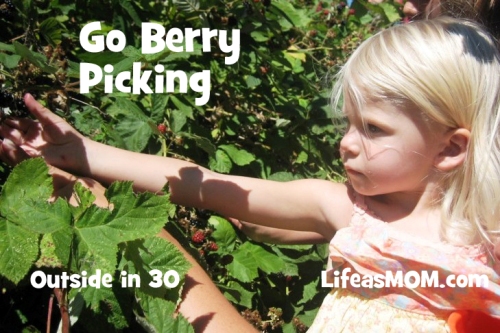 photo source: Janel
Your area's berry picking dates will be different. Now is a good time to research when you can go pick berries and to make sure you plan to do it. Berry picking is a fun way to get your kids outdoors and to expose them to where their food comes from.
Today's Challenge: Research berry picking in your locale and get it on the calendar to go.
Helpful resources:
Do YOU go berry picking?
Outside in 30

Want to find other ways to get outside with your peeps? Eager to enjoy the great outdoors more than you do? Wondering how to expose your kids to more of nature? Click here for the Outside in 30 list of ideas.