Get Out: Go Bird Watching
We are a participant in the Amazon Services LLC Associates Program, an affiliate advertising program designed to provide a means for us to earn fees by linking to Amazon.com and affiliated sites. We participate in other affiliate programs as well. For more details, please see our disclosure policy.
Bird watching is a fun and unique hobby that you can practice with your kids and enjoy the great outdoors.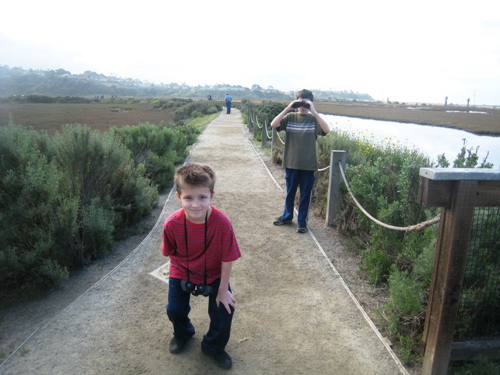 Last year we went bird watching as a family. It was a morning filled of fresh air and exercise. And lots of birds.
It was a simple affair, enhanced by the fact that a family friend is an avid bird watcher who actually knew what he was doing. As such, my kids had a fairly extensive experience. We heard about birds we'd never have been able to identify on our own.
However, if you don't have a birder among your acquaintance, we've found that park rangers and docents at estuaries and nature centers are very happy to teach you. My older boys have had repeat experiences on science field trips, and it's true: those who work in the field (pun intended) have a passion to share their knowledge.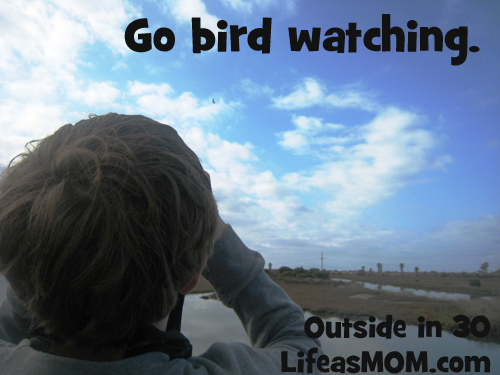 Today's Challenge: Take your kids to the backyard (or to a nearby estuary or park) and look for birds.
This does not have to be complicated. Don't stress yourself about this. Go early in the morning if you can when things are quiet.
I am awoken every morning by birds twittering in the trees behind our house. Chances are you won't have to go far to find birds. But, be quiet and alert.
Do a little research in advance. I bought A Field Guide to Birds when my oldest was about five. He read that book to tatters, hauling it around with him wherever he went on the prowl for birds.
Call the nature center near you. Find a local Audubon Society. Check out some books from the library. Just don't overthink it, either.
This is fodder for a great day of exploration with your kids.
Helpful Resources:
Ever been bird watching?
Outside in 30

Want to find other ways to get outside with your peeps? Eager to enjoy the great outdoors more than you do? Wondering how to expose your kids to more of nature? Click here for the Outside in 30 list of ideas.