Get Out: Go Fishing
We are a participant in the Amazon Services LLC Associates Program, an affiliate advertising program designed to provide a means for us to earn fees by linking to Amazon.com and affiliated sites. We participate in other affiliate programs as well. For more details, please see our disclosure policy.
Fishing is a great outdoor sport to enjoy with children.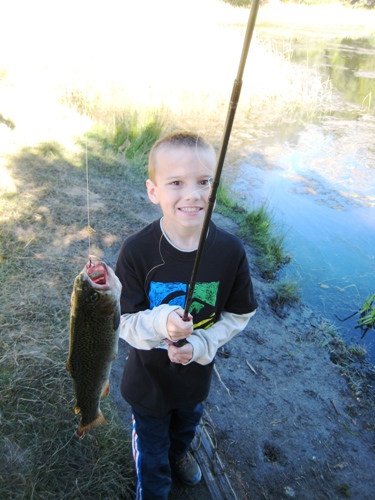 Despite the irony of our last name (Fisher), neither FishPapa nor I grew up in fishing families. My cousins all know their Muskies from their trout. I, on the other hand, am absolutely clueless.
A few years ago, hubs took it upon himself to learn a little, enough so that he could take the kids fishing. He researched gear, made a few trips to Walmart, chatted with folks in the fishing aisle who looked like they knew something, and then he loaded the boys up to go fishing.
I think we may even be the happy owners of Dora and Winnie-the-Pooh fishing poles.
It has become a once-a-year occurrence. And while it's obviously not a regular gig for them, it's one that they all enjoy. While fishing is certainly not going to offset my grocery bill anytime soon, it's a great way for my husband and the kids to spend good times together in the great outdoors.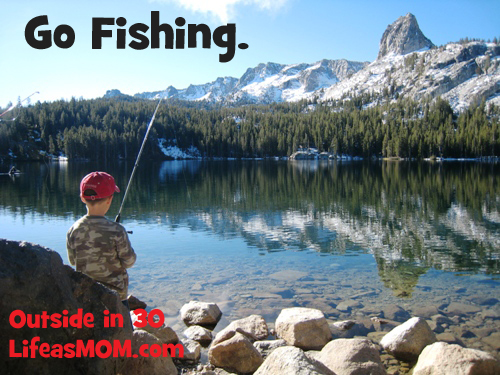 Today's challenge: Find out how you can legally fish in your locale. Better yet, plan a fishing adventure.
I realize that some folks still have snow on the ground. Come back to this series on May 1. For the rest of us, let's find good fishing holes in our areas. My people like Palomar Mountain and Mammoth Lakes.
Helpful resources:
Ready to go fish?
Outside in 30

Want to find other ways to get outside with your peeps? Eager to enjoy the great outdoors more than you do? Wondering how to expose your kids to more of nature? Click here for the Outside in 30 list of ideas.