Get Out: Go for a Bike Ride
We are a participant in the Amazon Services LLC Associates Program, an affiliate advertising program designed to provide a means for us to earn fees by linking to Amazon.com and affiliated sites. We participate in other affiliate programs as well. For more details, please see our disclosure policy.
Not only does bike riding get you some great exercise, but it also gets you and your family outside.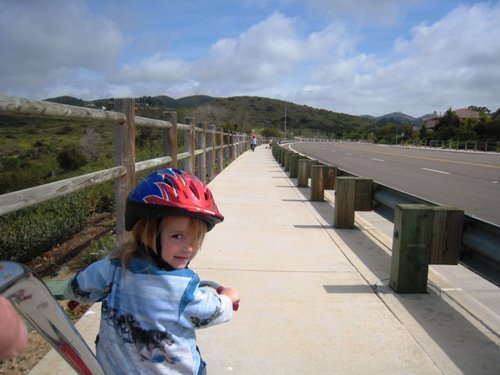 This month we're chatting about ways to get out and about. Shopping doesn't count. Nature does.
Our family has had some pretty good experiences when it comes to bike riding. Our kite flying date so many years ago was peppered with a day-long bike ride. I went to a college where the main form of transportation was bikes, so biking was a big part of my college years.
Years later when we had kids, we made sure that no matter where we lived, our kids learned to ride a bike.
When our kids were all really little, I took Saturday mornings off to take a deep breath and not feel so responsible all the time. Often that's when hubs loaded the kids up on bikes (some in a bike trailer behind his own bike) and they rode to a local restaurant for breakfast. They had a great time with this weekly tradition.
Bike riding is particularly fun when there are dedicated bike paths that you don't have to share with auto and pedestrian traffic. But, you can still make it a safe and enjoyable experience if you think outside the box.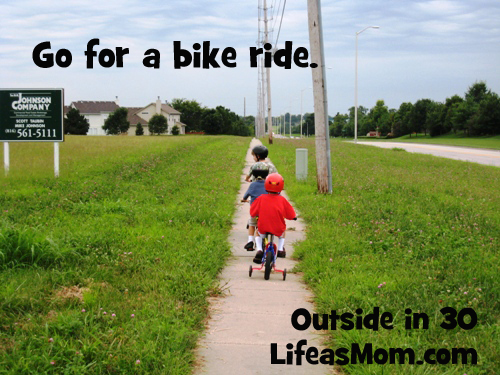 Currently, we live at the end of a large cul de sac which makes biking for the little ones easy and safe. At our previous house, there was a section of street that had been developed but not built on. Cars weren't allowed back into this dead end of a street, making it a perfect place for biking without worry.
We always require our kids to wear helmets and are careful to teach them bike safety. I broke my jaw back in college in a bike accident; it's what prompted my husband to start speaking to me back when we were strangers. But, I guess that story is for another day….
Today's challenge: Go for a bike ride with your kids.
I saw earlier today that it is STILL snowing in some parts of the country. So, save this challenge for another day if that is the case at your house. Instead, check everyone's bike, try on helmets, and see what you need to buy or repair so that you're ready when that first great bike riding day comes your way.
Helpful resources:
What's your favorite bike riding memory?
Outside in 30

Want to find other ways to get outside with your peeps? Eager to enjoy the great outdoors more than you do? Wondering how to expose your kids to more of nature? Click here for the Outside in 30 list of ideas.