Get Out: Go Swimming
We are a participant in the Amazon Services LLC Associates Program, an affiliate advertising program designed to provide a means for us to earn fees by linking to Amazon.com and affiliated sites. We participate in other affiliate programs as well. For more details, please see our disclosure policy.
Swimming is a fantastic way to get you and your family outside and into the fresh air.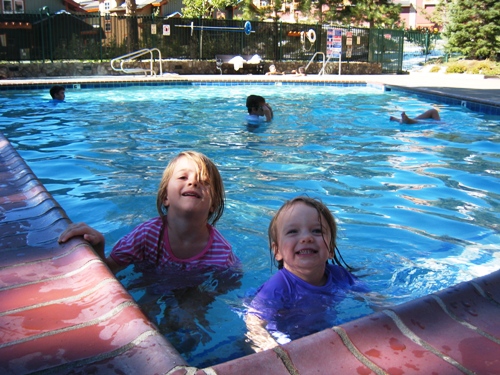 Growing up it Southern California, I knew plenty of kids with pools in their back yards. Ours was one of the few that didn't. It had a broken down above-ground pool that eventually bit the dust. So, we borrowed the neighbors' pools whenever we could.
In my adult years, I've never had a pool in the backyard either, but we've found plenty of ways to make swimming a seasonal, if not regular thing for our kids.
When we lived in Kansas, we bought a summer's family pass to the local pools. It was the best $100 I ever spent as the kids and I went to the pool almost every single day of the summer. Here in San Diego, we've got a Y membership that gets us access to two different pools almost every day of the year.
When we travel, we make sure there's a pool at the hotel.
Swimming has proven to be excellent exercise as well as a great way for our family to get outdoors each and every day.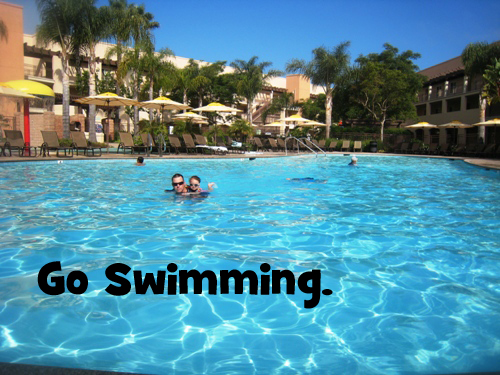 Today's challenge: Go swimming.
Okay, maybe the local pools aren't open yet in your neighborhood. But, you can make a plan for swimming. Find out what your options are come summer. Memorial Day is only a month away! That's the official pool season so find out what you have available to you.
Consider swim lessons for your kids. Teaching your children to swim is one of the most important life skills you can give them. We don't require many things around here, but knowing how to swim is definitely one of those things.
We have found that dedicated swim schools have been the best way for our kids to learn. In Olathe, KS, I highly recommend McCracken's Swim School. Their no-nonsense swim lessons were the best for my older boys. Here in San Diego, Murray Callan Swim School has a fabulous reputation.
Looking for a swim school near you? Check out the US Swim School Association for recommendations.
Outside in 30

Want to find other ways to get outside with your peeps? Eager to enjoy the great outdoors more than you do? Wondering how to expose your kids to more of nature? Click here for the Outside in 30 list of ideas.