Get Out: Go to the Farmer's Market
We are a participant in the Amazon Services LLC Associates Program, an affiliate advertising program designed to provide a means for us to earn fees by linking to Amazon.com and affiliated sites. We participate in other affiliate programs as well. For more details, please see our disclosure policy.
A visit to the farmer's market can be a delightful bit of agriculture in the middle of the city with fresh air and sunshine.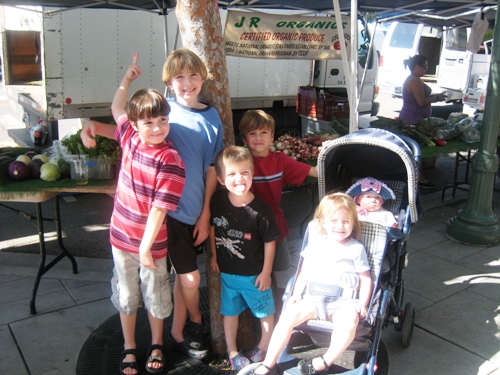 Not all farmer's markets are created equal. I've been to those in small towns, big cities, and quaint little French villages. Some are clearly better than others, in terms of quality, price, and character.
The mainstay among them all is that they are typically open-air and typically feature a good bit of agriculture, whether it's freshly picked berries or live chickens. We've seem animals to pet as well as those to purchase for food!
The farmer's market exposes you and your children to fruits and vegetables that you might not see in the store as well as in forms that you might not typically buy, like carrots with their tops on instead of those wittled down baby things wrapped in plastic. That right there is getting one step closer to nature.
While you might not call a trip to the farmer's market an outdoor adventure, it does get you and the family out of the house, into the fresh air, and in close proximity to wildlife… hopefully of the flora and fauna kind, not the rowdy college students turning market night into an occasion to party.
(We have that element here; do you?)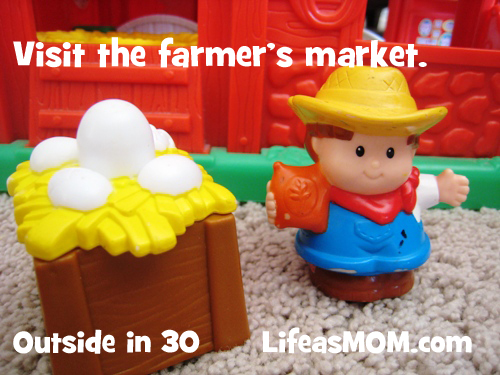 Today's Challenge: Find the farmer's market in your area and go check it out.
As I mentioned, some farmer's markets are better than others. Ask around to find out the best one for kids and families in your area. Is there a petting zoo? Is it a family-friendly atmosphere? Do the vendors offer free samples?
Often times, you can find someone who is really happy to tell you about their product and how it's produced. We had a great talk with the man selling cheese curds a few months ago.
Helpful resources:
Outside in 30

Want to find other ways to get outside with your peeps? Eager to enjoy the great outdoors more than you do? Wondering how to expose your kids to more of nature? Click here for the Outside in 30 list of ideas.