Get Out: Play at the Park
We are a participant in the Amazon Services LLC Associates Program, an affiliate advertising program designed to provide a means for us to earn fees by linking to Amazon.com and affiliated sites. We participate in other affiliate programs as well. For more details, please see our disclosure policy.
Playing at the park is one of the easiest ways to get fresh air and exercise. Take your kids today!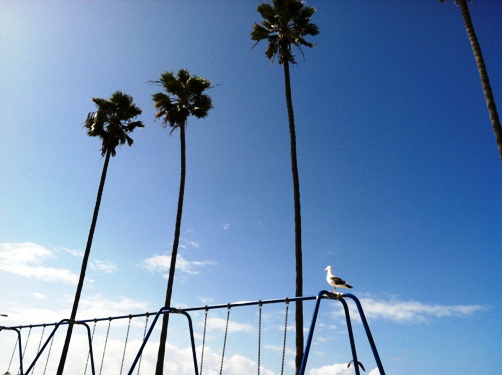 In my effort to get outdoors more often, I find that the easier it is, the more often we can do it.
Playing at the park is one of those easy things. It doesn't take much. We pass several every time we go in the car. The hockey rink has its own playground. Heck, we even have a small park behind our house.
That doesn't mean I take my kids as often as I should or could. But, they are thrilled when I do. The slides and swings are always fun for them. My 8-year old always astounds me with his Captain America-like strength on the monkey bars. I should probably attempt a few chin ups myself.
Remember to assess the play structures for safety hazards before letting your kids play. Damages to swings or jungle gyms might not yet be reported. You don't want to find them the hard way.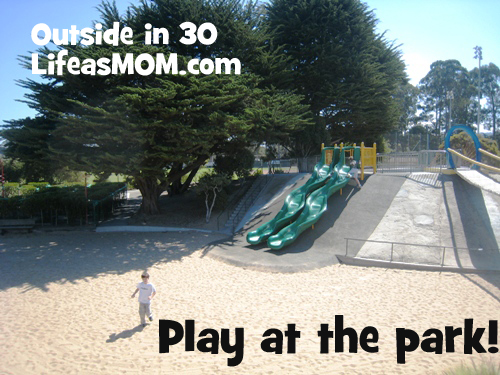 Today's Challenge: Go play at the park.
Weather permitting, it won't take much: sunscreen, a hat or two, a water bottle. Go for an hour. You won't miss the time, but you'll have made a memory, no matter how small it might be.
Don't forget to explore the shrubbery, collect sticks and leaves, and otherwise engage with nature at the park.
Helpful resources:
What's YOUR kids' favorite park activity?
Outside in 30

Want to find other ways to get outside with your peeps? Eager to enjoy the great outdoors more than you do? Wondering how to expose your kids to more of nature? Click here for the Outside in 30 list of ideas.